Summary: Want to know more about kraft paper making machine? Read this guide to get more information on kraft paper slitting machines, printing machines, and rewinder machines.
WhatsApp/WeChat 008613598866720

Kraft paper is a tough, water-resistant packaging paper with a brownish-yellow color and a wide range of uses. It is often used to make paper bags, envelopes, record sleeves, files, and sandpaper. The quantitative range is 40 g/m2 to 120 g/m2. Also, there are differences between web and flat paper, single-sided light, double-sided light, and stripes. The main quality requirements are flexible and strong, high burst resistance, and able to withstand large tension and pressure without breaking.
Here come the questions: How is kraft paper manufactured? What machine is used for making Kraft paper? Read below to learn more about the Kraft Paper Making Machine.
Working case: Kraft paper production line in Vietnam
➡ Kraft Paper Making Machine
To produce the high-strength and high-quality kraft paper, YG Paper Machinery designed and manufactured the kraft paper production line. We can design the production line according to the raw materials type, Production capacity, pulp products and mill-specific requirements. If you are looking for this machine, do not hesitate to contact us or leave your requirements here. We will send you the details and make a factory plan for you. Read also: Paper calendering machine for sale.
WhatsApp/WeChat 008613598866720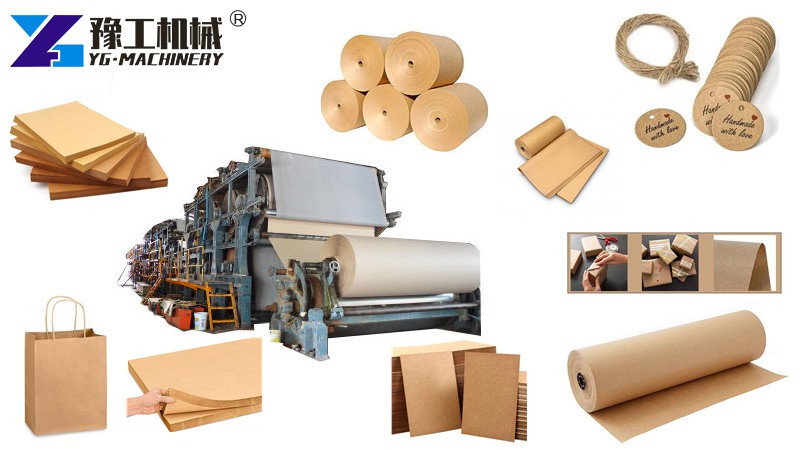 Technical Parameters
Here is a small kraft paper making production line technical parameters. Please check:
| | |
| --- | --- |
| Item | 1600mm Kraft Paper Making Machine |
| Output product | Packing paper, kraft paper, |
| Gram weight | 90—220g/m2 |
| Net paper width | 1600mm |
| Rolled paper width | 1600mm |
| Wire width | 1950mm |
| Daily capacity | 10T/D |
| Working speed | 40-80m/min |
| Design work speed | 100m/min |
| Transmission form | Division of the drive, ac frequency conversion speed regulation. |
| Gauge | 2400mm |
| Factory area | 1000m2 |
The whole Production Line Presentation
The whole production line is composed of many sections: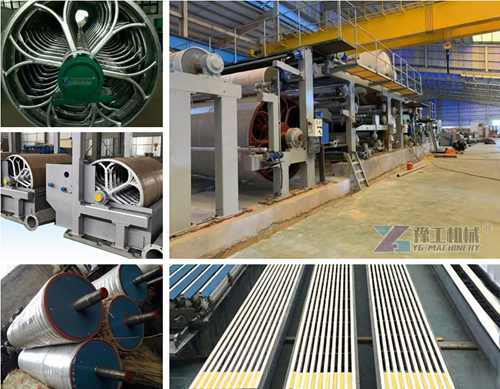 Wire Section
Consists of 2 sets of cylinder devices. The cylinder consists of a mesh, mesh slot, coucher, vacuum suction box, etc.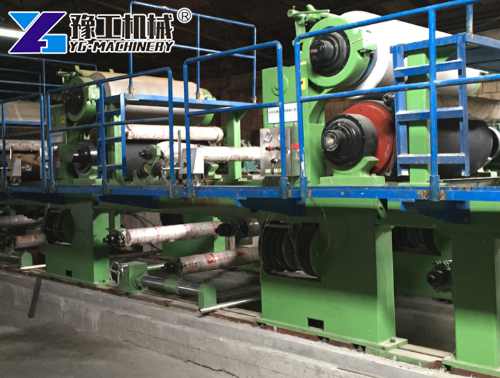 Press Section
The Press section is composed of a felt pressure, wet from the felt to squeeze water, after getting enough dryness, into the wire.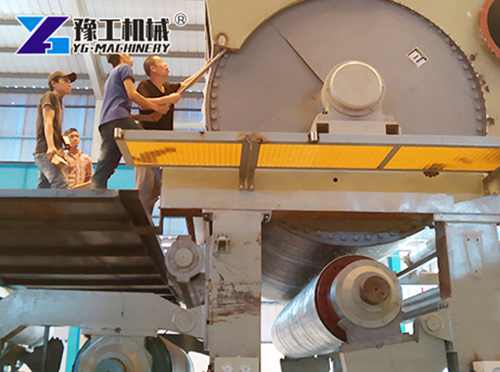 Dry Section
Drying cylinder device: diameter φ2000 mm +φ2000mm
Width: 1950 mm
Work pressure: 0.3 Mpa
Production process
Raw material(waste paper)—— Pulper——Vibrating screen——Grinder——Stuff pump——Blender——Fiber Separator——Pressure screen——Main paper making machine——Paper Rewinding machine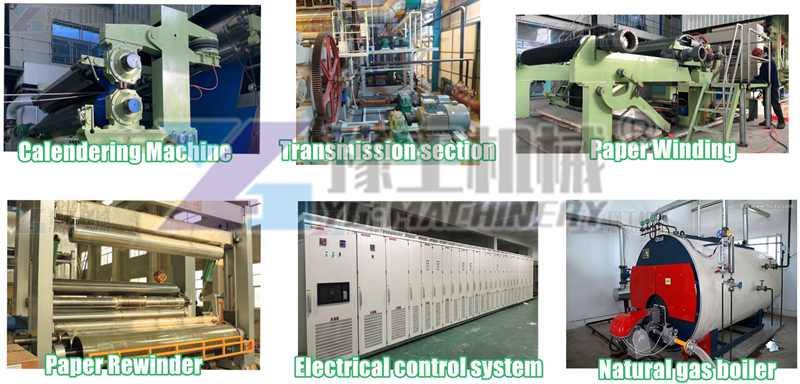 Read also: Paper Calender Machine For Sale|China Supplier
FAQs about the kraft paper manufacturing
What are the Raw materials of kraft paper?
The raw material of kraft paper is wood fiber or bamboo fiber of wood or bamboo. Kraft paper, its raw material is generally derived from coniferous trees. Coniferous trees are mostly evergreen trees, and their materials are generally soft, and some contain resin, so they are also called soft materials, such as red pine, sylvestris pine, larch, spruce, fir, hemlock, fir, cypress, Yunnan pine, Huashan pine, Masson pine, and other coniferous species.
How is Kraft paper manufactured?
Kraft paper is made of the wood fiber. Through the pulping, screening, and many complicated steps. the paper making machine can convert the wood to brown kraft paper. Kraft Paper Bouquet Sleeves machine. If you want to produce white kraft paper, you need another step – bleach.
What machine is used for making paper?
The Fourdrinier machine is the main machine suitable for producing paper, paperboard, and other fibreboards,
Our Factory

Henan Yugong Machinery Co.Ltd is a paper machinery manufacturer. Our machines sell well in more than 30 countries and regions. Such as Russia, Indonesia, Uzbekistan, Tajikistan, Nigeria, Uganda, Pakistan, Egypt, Bhutan, Fiji, Brazil, Paraguay, Syria, Libya, Turkey, Canada, etc., The high quality and perfect service keep the customer praise and orders. Also, we have established good strategic cooperation with local distributors. Besides the kraft paper production line, we offer also Kraft paper bag machine, multi layers kraft paper bag making machine.