Toilet paper or napkin paper is necessary for our daily life. We use If you have a look at it, you will find patterns on tissue paper. Here comes a question: How to emboss patterns on tissue paper? A paper embossing machine is here for this.
Paper Roll Embossing Machine
YG Paper Embossing Machine is widely used in the embossing of paper towels, cloth, special paper, plastics, aluminum foil and aluminum foil composite paper, leather, and other industries (can be matched with various types of assembly line equipment). The paper roll embossing machine is composed of embossing rolls and frames. The paper passes through the embossing rolls of the tissue machine, and the patterns on the embossing rolls are printed on the paper by pressing between the embossing rolls.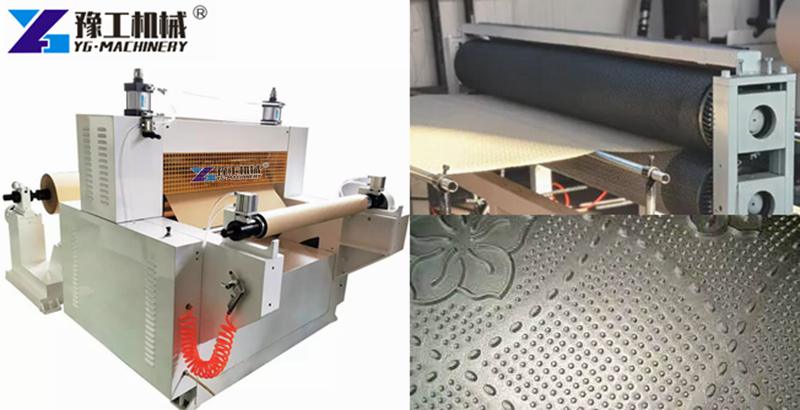 Technical Parameters
| | |
| --- | --- |
| Embossing Roller Size | ф200-450mm x 500-1600mm width |
| Embossing Roller Patten | Checkered, cloth patterns, pearl patterns, round balls, and other patterns can be customized |
| Pressed materials | Paper products |
| Embossing Roller Material | Alloy steel solid forging; |
| Embossing Mode | The upper and lower concave-convex rollers oppose pressure |
| Pressure Adjustment | Cylinder pressurize |
| Transmission Mode | Gear transmission |
| Voltage and Power | 380V/50HZ, 3P; 11KW; (speed:0-40m/min.) |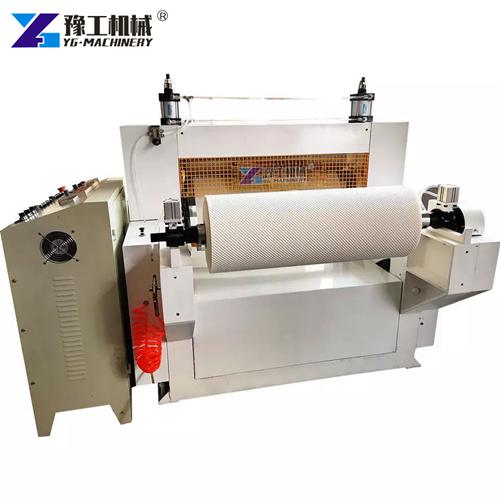 Features of toilet paper embossing machine
Due to the double-sided embossing and gluing composite embossing method, the paper products processed in this way are softer and more comfortable than single-sided embossing. And the effect on both sides of the finished product is the same. Very beautiful. In addition, each layer of paper does not scatter when used, which is especially suitable for processing kitchen towels in rolls. The weight of finished products of the same size is reduced by 15% or more.
This fully automatic toilet paper rewinding machine is equipped with coreless, solid, and roll paper tube toilet paper, so it can complete the switching between products in an instant, and can also be selected according to user needs.
It can realize automatic edge trimming, glue spraying, sealing, and shaft pulling in an instant. So that there is no paper loss when the roll paper is transferred to the band saw for cutting and packaging. Thus it greatly improves the production efficiency and the grade of the finished product. There is a paper tail for easy activation.
Pneumatic belt feeding, rewinding shaft, and each shaft of base paper have independent tension adjustment mechanisms.
What are the advantages of embossing?
Embossing makes the drab toilet paper beautiful and adds some pattern to the toilet paper to make it more attractive to customers.
Embossing keeps several layers of toilet paper from loosening. After embossing, the paper towel will form a bumpy surface. And the concave and convex surfaces are nested in each other. It can make the paper towel more compact and not easy to loosen.
Enhances water absorption. After the embossing process, the paper has changed from flat to uneven, creating small spaces that are more convenient for storing moisture. Therefore, embossing is more common in kitchen paper, and the water absorption effect is better.
Adds friction and fluff. After embossing, the surface of the paper is rougher. This can increase the friction and adhesion of the paper and enhance the cleaning effect. Embossing also adds fluffiness, making toilet paper more comfortable to use.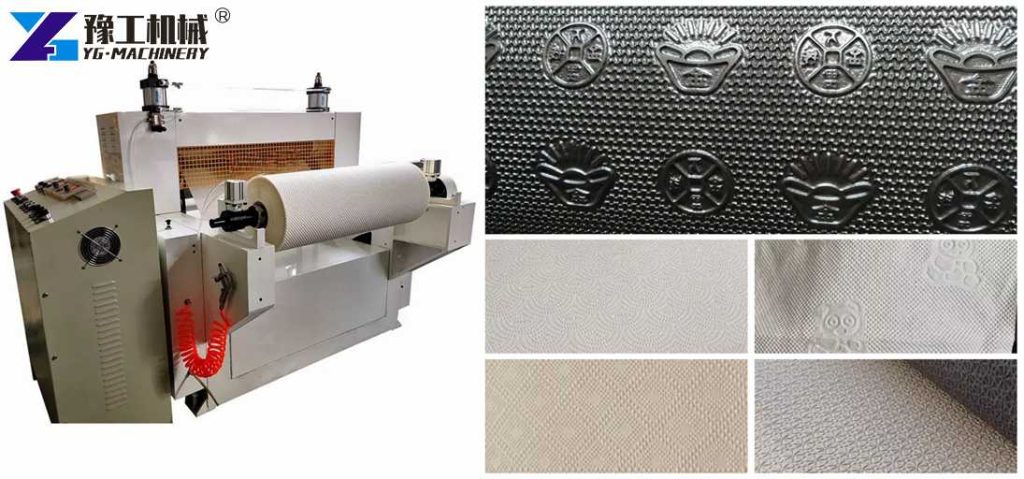 Toilet Paper Machine Supplier – YG Paper Machinery
YG Paper Machinery provides paper roll cutter embossing machines to process base paper of 1.2m, 1.75m, 1.95m, 2.15m, 2.35m, 2.55m, 2.75m, and other widths. All models are available! Besides, as a one-stop toilet paper machine supplier, we also provide other toilet paper processing machines. Such as rewinding slitting machine, paper cutting machine and packaging machine, facial tissue making machine, pocket tissue making machine, paper core tube manufacturing machines, etc. If you want to buy the toilet paper machine, please feel free to contact us!