I want to start a corrugated box manufacturing factory, what equipment do I need? Here, I will introduce all the machines that you need to start the paper corrugated carton box production plant.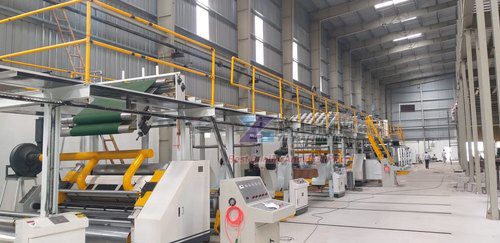 Are you looking for corrugated box forming machine? Please leave your requirements and your contact information, our sales manager will contact you as soon as possible.
What equipment do I need to produce a carton box?
Equipment for producing cardboard: single-sided corrugated cardboard production line, three-layer corrugated cardboard production line, five-layer corrugated cardboard production line, and seven-layer corrugated cardboard production line.
Carton processing equipment: carton printing machine, glue box machine, nail box machine, baler.
Fully automatic Corrugated Box Production Line
In common, the cartons have 3 layers and 5 layers, and seven layers are rare. Each layer is divided into lining paper, corrugated paper, core paper, and face paper. If you want to start the carton manufacturing from papermaking, you need then a corrugated paper making machine.
Corrugated cardboard production line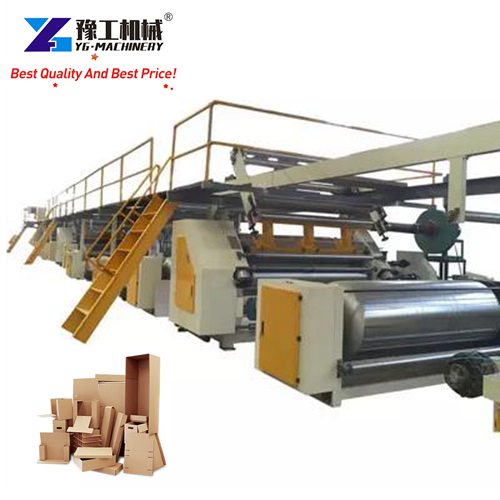 The corrugated cardboard production line is the key production equipment for corrugated box production enterprises. The five-layer corrugated cardboard production line includes equipment such as an electric shaftless paper rack, paper feeding trolley, face paper preheater, core paper preheater, heavy-duty secondary gluing machine, etc.
Technical Parameters
| | |
| --- | --- |
| Model | YG-1100PC-A |
| Suitable paper | 200-800 g / m2 cardboard, E-F-N corrugated board |
| Box type | Straight line, crash-lock bottom, double sides, four/six corner box |
| Feeding way | Continuous automatic feeding. |
| Glue type | Solute style |
| Max. speed | 400m/min |
| Power | 31KW, AC220V/380V |
| Weight | 11T |
| Dimension | 19000mm*2050mm*1600mm(L*W*H) |
| Inching speed | 40m/min |
| Compressed air | 6 bar |
| Air compressor capacity | 10m/3 |
| Air tank capacity | 60L |
If you have a corrugated cardboard supplier, then you can start with this equipment. You can buy the raw materials corrugated cardboard from the paper factory.
Corrugated cardboard die cutter
Parameters of Automatic Rotary Corrugated Carton Cardboard Die Cutting Machine:
| | |
| --- | --- |
| Model | YG-1450 |
| Max die cutting length | 1450mm |
| Speed | 100-150times/min |
| Max die cutting width | 900mm |
| Outer diameter | 280mm |
| Rubber roller diameter | 250mm |
| Max cutting thickness | 16mm |
| Rubber pad thickness | 8mm |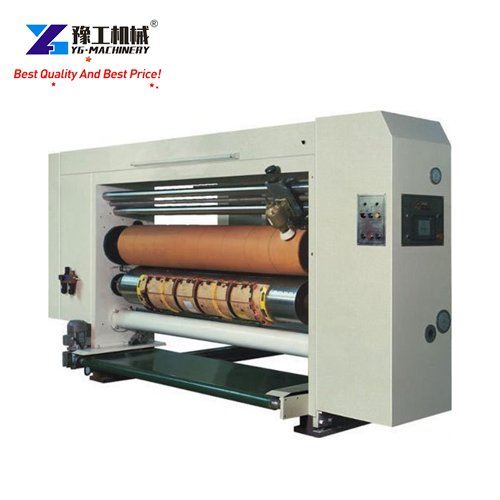 Corrugated cardboard printing machine
This equipment is used for printing and slotting die-cutting of cardboard.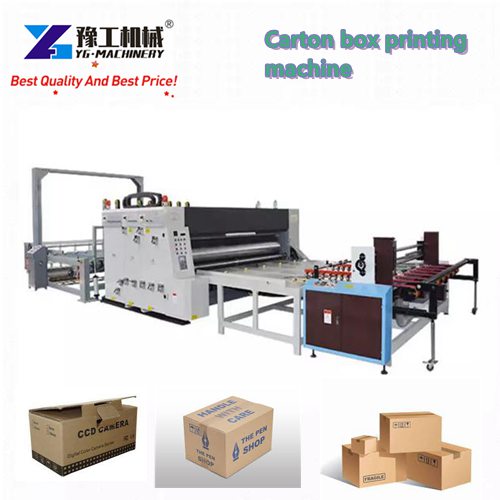 Chain type hand move feeding cardboard
When the machine stopped working ink roller can automatically separate from the printing roller facer in order to protect it.
Ink rollers have a separately turn device to prevent ink dried when the machine stopped working
Adopt pneumatic locking, electric separation
| | |
| --- | --- |
| Model | YG2000 |
| Roller diameter | φ468 mm |
| Max sheet size | 1300×1800 mm |
| Max printing size | 1300×1600 mm |
| Min sheet size | 350×500 mm |
| Min slot space | 190×50×190×50 mm |
| Working speed | 0-60 pcs/min |
| Printing precision | ±0.5mm |
| Standard plate thickness | 6 mm |
| Sheet thickness | 1.2-9 mm |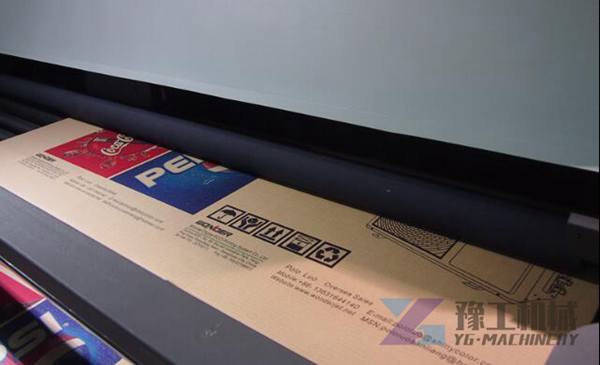 Automatic Corrugated Carton Cardboard Paper Box Making Machine
After printing, slotting and die-cutting, the cardboard is bound and formed by a nail box machine or bonded by a box gluer. This High-Speed Corrugated Carton Box Gluer Folding Machine is specially designed for all kinds of cardboard, and corrugated packaging boxes. Easy to operate and stable. Below is the machine technical information:
| | |
| --- | --- |
| Name | High-speed gluing folding machine |
| Model | YG-1200AC |
| Paper Material | Cardboard 210-800g A/B/E Corrugated |
| Max. Liner speed | Max. 260 meter/minute |
| Feeding way | Automatically and continuously feeding |
| Way of folding | Fold 1 and fold 3 are 180° |
| Glue Material | Water-base cold glue |
| Power Supply | 3P, 380V, 50HZ |
| Total power | 12kw |
| Weight | 8T |
| Over dimension | 13.5×1.85×1.6m |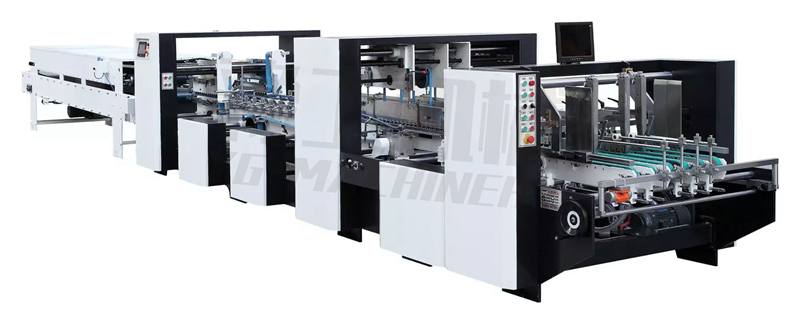 Note

The equipment used in the carton factory is very clearly classified according to the processing requirements, and the role of each type of equipment is also simple and clear. If you want to know the equipment required by the carton factory, you must first determine the processing scope of the carton factory. There are cardboard production, carton processing, express carton production, and special-shaped gift box production. First, we must understand the scope of production services. Then go to match the relevant equipment, so as to better understand the carton equipment.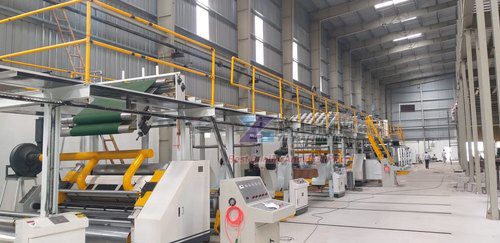 Watch the working video on our YouTube channel
Here is the working video of the carton box making machine. Check it!
About Us
Henan Yugong Machinery is a professional paper machinery manufacturer and supplier. Our hot sale machines: paper cup machine, wet wipes machine, packaging machine for sale, A4 paper cutting machine, Egg tray machine, etc. So if you are looking for a fast speed semi automatic or fully automatic corrugated box making machine, please feel free to contact us.