The envelope is a packaging item that we used to contain a flat object such as a letter or a card. Maybe you know how to make an envelope manually? But how does an equipment make the envelope? Here, I will talk about the fully automatic envelope making machine.
Envelope machines for sale
The machine for making envelopes can be divided into Paper Envelope Making Machine, Medicine Envelope Maker Machine, Kraft Envelope Making Machine, Pocket Envelope Making Equipment, Window envelope manufacturing equipment, etc. This machine made by YG Paper Machinery is mainly used to produce large and medium-sized Western-style envelopes, Western-style red envelopes, and flat paper bags. Easy to adjust and easy to operate. The glue hopper is easy to clean. This machine has positioning non-stop fine-tuning, which greatly facilitates precise adjustment. Contact us to get the cardboard envelope machine cost.
➡YG-380A Paper Envelope Making Machine
Maximum working speed: 8000pcs/hour
Paper thickness: 70-220 g/m2
Envelope finished size: maximum, 380×250mm, minimum, 110×120mm
Motor power: 2.2kw
Air pump power: 3kw
Dimensions (LWH): 4200×1050×1550mm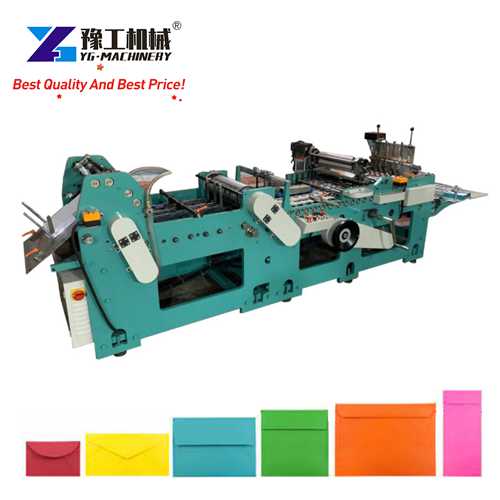 An envelope machine is a type of manufacturing equipment used to produce envelopes of various sizes and types. Envelope machines come in many different varieties, but they generally all perform the same basic functions.
➡YG-280B Envelope Maker Machine
Maximum working speed: 15000 pcs/hour
Paper thickness: 60-220g/m2
Envelope finished size: maximum, 280×165mm, minimum, 80×80mm
Motor power: 1.5kw
Air pump power: 3kw
Dimensions (LWH): 3100×1000×1450mm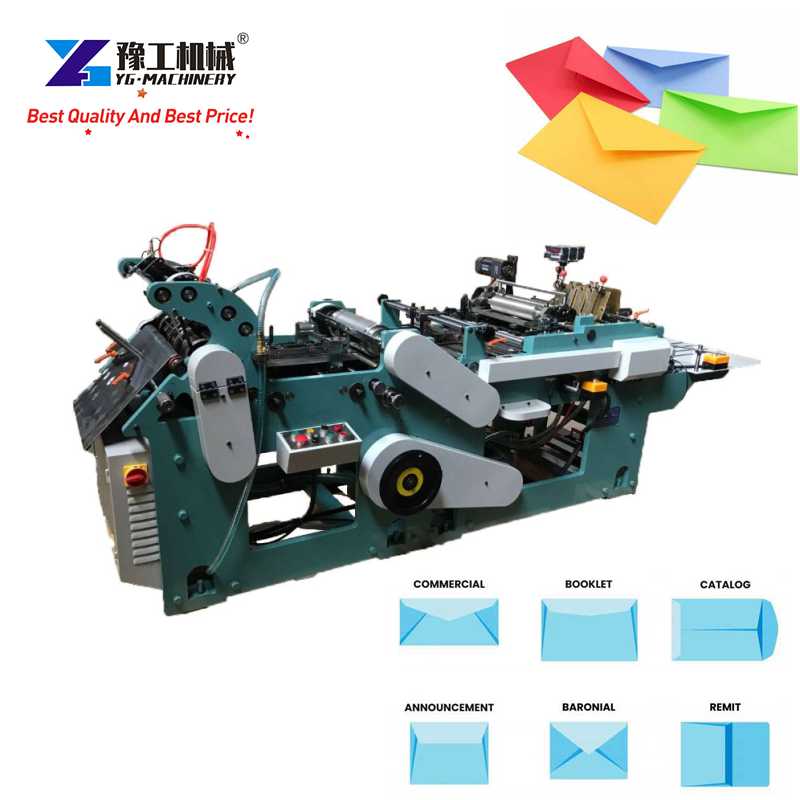 Features
Suitable for producing kinds of Western-style envelopes.
Easy to operate, stable and reliable, high efficient.
Air suction bottom draws paper, and the machine continue working without stopping.
Air blowing to separate paper and automatic four-side indentation.
Adjust the length of the silicon paper by the step-less speed change, and the width is constant.
Fold horizontally with the air suction roller fence, high speed and stability.
Rotary silicon paper cutting machine: Ensure accurate suction, transmission, and sticking positions.
Envelope Processing Steps
Envelope machines use a series of rollers and other mechanical parts to take a sheet of paper or other material and fold it into the shape of an envelope. Some machines are designed to produce specific types of envelopes, such as those with windows or those with custom designs. Other machines are more versatile and can produce a wider range of envelope styles and sizes. This is how to make an envelope with the envelope processing machine:
First, cut the paper into the correct form
Then, fold the flaps
Third, seal three of the flaps
Last, apply adhesive to the top flap that the user can seal at a later time.

Read Also:
Envelope machines can be used in a variety of settings, including commercial printing shops, envelope manufacturers, and in-house mailrooms. They can help to streamline the envelope production process and reduce costs associated with outsourcing or hand-folding envelopes.
How much is an envelope maker machine
What is the automatic envelope making machine price? If you are looking for a fully automatic envelope making machine for sale, please leave your messages here. If you want to learn more about envelope machines, you can also contact us for more specific information about our products and services. Our sales manager will contact you as soon as we get your inquiry.
Besides this equipment, YG Paper Machinery provides also an Envelope sealing machine, Envelope stuffing machine, Envelope Inspection, Sorting Machine, etc. Whether you have questions about our machines or our services, do not hesitate to contact us.