Here is a project of a kraft paper production line in Vietnam, Are you looking for EPC service for conducting the pulp and paper factory? Please feel free to contact us here. WhatsApp/WeChat 008613598866720.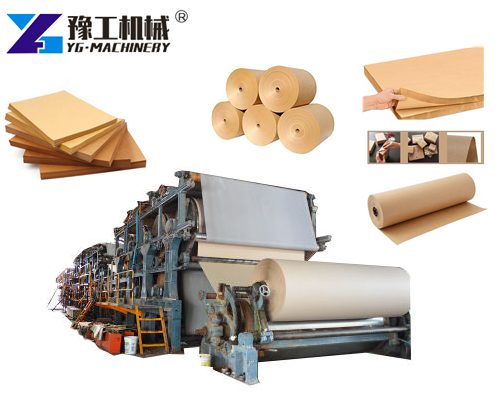 Kraft Paper Manufacturing Project
Paper weight: 70-140g/m2;
Working speed: 150-400m/min;
Output: 500,00TPY
Production paper type: Kraft paper
Project Introduction
In October 2022, for the first time, YG Paper Machinery signed a contract with *** Paper Company for the kraft paper pulp preparation system. And it will officially start production in September 2023.
This is our first paper production line that will be installed in Vietnam. It shows that YG Paper Machinery has achieved new achievements in the high-end household paper supporting projects. The breakthrough has once again proved that its reliable, stable, and energy-saving stock preparation system equipment has been fully recognized by customers.
2500mm Kraft Paper Making Machine
Check the parameters of this 50,000 TDY kraft paper production line:
| | |
| --- | --- |
| Model | 2500mm Kraft Paper Making Production Line |
| Main product: | Kraft paper or Fluting paper |
| Basic weight: | 70-140g/m2 |
| Width of paper: | 2500mm |
| Width of rolling paper: | 2580mm |
| Working speed: | 150–400m/min |
| Driving mode: | AC motor frequency conversion speed subsection drive |
| Pressure | 3Mpa, 2Mpa, 0.5Mpa |
| Power | high pressure, 380/220V |
Raw Materials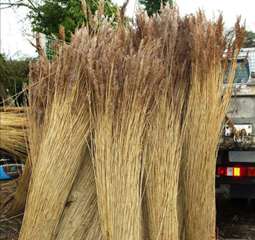 Production Line Details
Fourdrinier Department
This part is composed of headbox, screen frame, walk table, white water tray, dehydration element, vacuum stick, drive net stick, guide net stick, scraper, water spray pipe, paper edge cutting needle, net tensioner, correction, and other parts; all sub-bearings are lubricated with grease.
Press Department
Pressing form: Two large-diameter gantry presses. All press rubber wheels are covered with synthetic rubber, and the bearings are matched with Wafangdian bearings or Luoyang bearings.
Pressurization method: pneumatic pressurization
Drying Department
The dryer department adopts the gearbox transmission. The rack is a box-shaped structure. The operation and transmission sides of the drying section are equipped with longitudinal and necessary horizontal walking platforms. The steam hood shell is made of high-quality anti-rust aluminum alloy plate material with a corrugated surface around it.
Adopt a horizontal pneumatic winder. It is mainly composed of a roll paper cylinder, roll paper main arm, auxiliary arm and its transmission device, scraper, automatic winding device, buffer brake device, etc.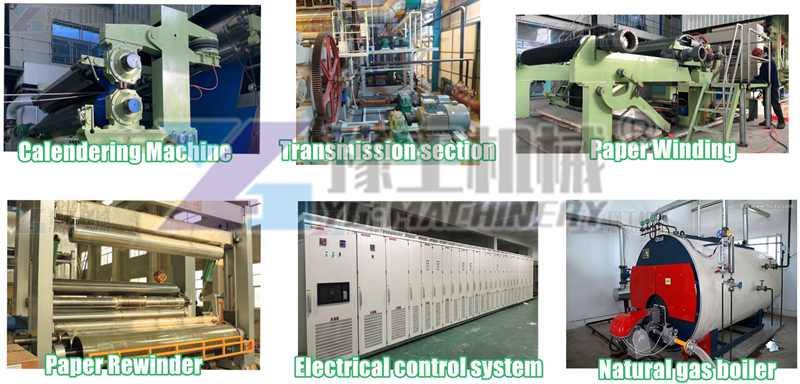 YG Paper Machinery
Based on high-quality products and services, Our company has been recognized by overseas customers and markets. We have exported to many countries and regions, such as Pakistan, Uzbekistan, Turkmenistan, Bangladesh, Cambodia, Bhutan, Israel, Georgia, Armenia, Afghanistan, Egypt, Nigeria, Kenya, Sierra Leone, Cameroon, Algeria, El Salvador, Brazil, Paraguay, Colombia, Guatemala, Fiji, Ukraine, and Russia, etc. If you want to start a paper making machine factory, please leave your requirements below. And our sales manager will contact you for services as soon as possible.