Pulp molding is a three-dimensional papermaking technology. The fiber molding machine, also known as the pulp molding machine, is used for making egg trays, apple trays, lunch boxes, tableware, and industrial cushioning packaging tray. Its development is very rapid.
🥚Pulp Molding Machine🥚
Fully Automatic Fiber Molding Production Line can make 1,000 to 6,000 pieces of trays per hour. YG Paper Machinery provides many models to meet your requirements. If you are interested in the pulp molding machine, please leave your requirements.
◽ Capacity: 1000-6000pcs/h
◽ Forming Mould Quantity: 3-48 pcs
Note: Need 3-8 workers.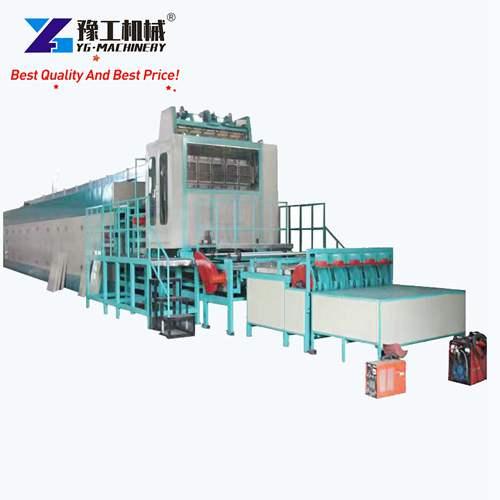 What can you make with the paper(Fiber) pulp molding machine?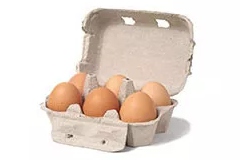 Pulp Molding Process / Flow Chart
Here is the flow chart of the pulp moudling machine:
Waste Paper ➟ Hydrapulper ➟ Paper pulp ➟ Pulp proportioning ➟ Feeding Pulp ➟ Fully Automatic Pulp Molding and Trimming Machine ➟ Final products ➟ Packaging.
Why should I invest in the paper pulp molding business?
The raw material is waste paper, including cardboard, waste carton paper, waste white border paper, etc. The raw materials are cheap and easy to get. The finished products can be recycled.
The production process is completed by pulping, adsorption molding, drying, and shaping, and is harmless to the environment.
Great ROI: Our smallest production line can make 800-1000 trays per hour. With a low investment, you can have your own profitable business. Contact us to get a free quote.
The pulp molding industrial packaging industry is developing rapidly. At present, more than 1,000 products have been developed, involving household appliances, communication equipment, computer accessories, hardware tools, toys, ceramics, glassware, lighting, food, medicine, cosmetics, agricultural products, etc. There is a huge demand.
The machine is easy to install and operate. We have developed pulp molding technology for years. So the failure rate is really low. Buy a paper fiber molding machine now!
Egg Tray Machine for sale
There is semi-automatic egg tray machine and automatic egg tray production machine to choose from. You can choose the model according to your requirements.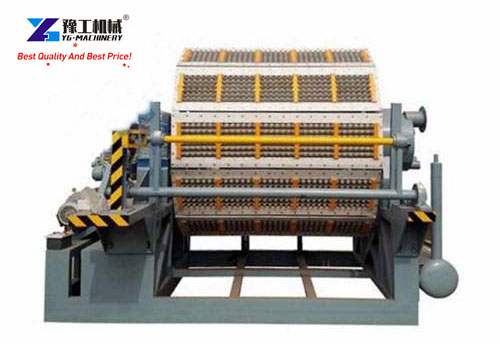 12 Sides Egg Tray Machine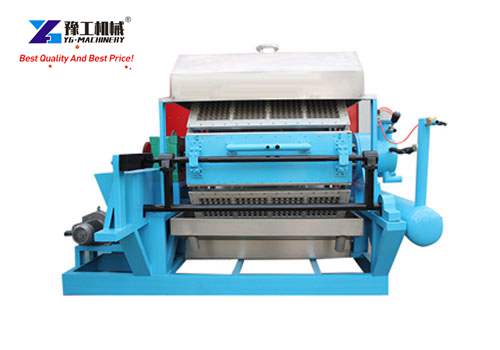 8 sides Egg Tray Machine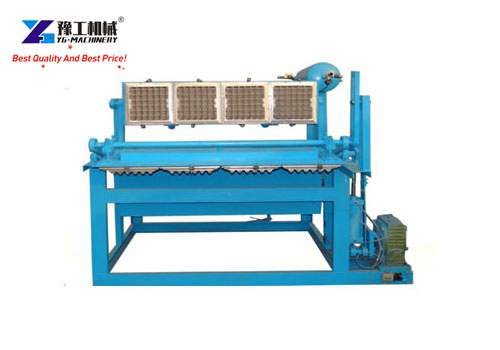 4 sides Egg Tray Machine
What is the paper pulp molding machine price?
Egg tray products are common in our lives. In fact, individuals can also invest to produce this product. Because the egg tray equipment is not very expensive (here refers to small processing factory equipment). Therefore, there are also many individuals and small businesses doing this.
What is the price of egg tray equipment? The paper molding machine' price mainly depends on the capacity, The manual or second-hand semi-automatic machines are relatively simple and can only produce egg trays of average quality. However, it is low cost. So it is suitable for small manufacturers. The price of large and medium-sized egg tray equipment is relatively high. Such equipment is generally automatic, and the advanced ones are generally CNC automatic. YG Full Automatic Fiber Molding Production Line belongs to the intelligent automatic type and has high efficiency, stable performance, and various product styles. As long as you have a good mold design idea, this machine will bring you many surprises.
YG Paper Machinery has many years experiences of developing pulp molding technology. Our egg tray machines have been exported to Honduras, Mexico, Zimbabwe, South Africa, Zambia, Ghana, Norway, the Philippines, Dominica, etc. Need to buy a fully automatic paper pulp moulding machine? Please contact us to get the price here. WhatsApp/Phone 008613598866720. Give us a call, we will send you the machine price.