Corrugated boxes are the most widely used shipping container in commerce. They are made by folding and gluing corrugated cardboard. Corrugated cardboard is made of surface paper and corrugated core paper formed by processing corrugated sticks. Generally, corrugated cardboard has a dedicated corrugated paper production line to produce and cut into the cardboard of the required specifications. Today, we will talk about the Corrugated paperboard production line.
Corrugated Paper Production Line
Corrugated paper board production line plays an important role in the production of a corrugated cardboard box. The corrugated cardboard production line is the most important production line equipment in carton packaging enterprises. It includes several important components such as wet section equipment, cadre equipment, and production management system.
Finished Product: Fluting paper, Testliner paper, Kraft paper, Colorful Paper Cup, Cardboard Paper Machine, Paper Board, Paper Drinking Straw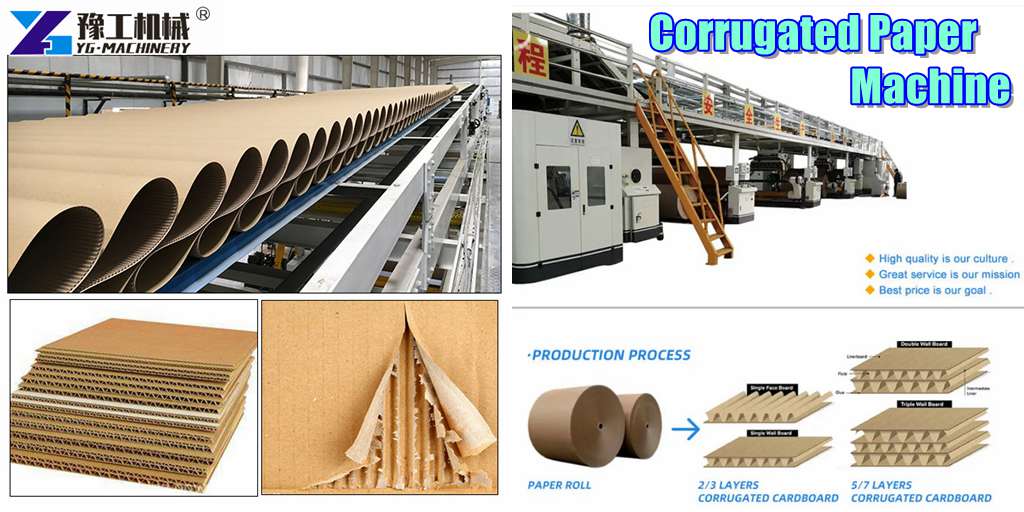 Technical Parameters of Corrugated paperboard production line
| | |
| --- | --- |
| Model | YG-1100PC-A |
| Suitable paper | 200-800 g / m2 cardboard, E-F-N corrugated board |
| Box type | Straight line, crash-lock bottom, double sides, four/six corner box |
| Feeding way | Continuous automatic feeding. |
| Glue type | Solute style |
| Max. speed | 400m/min |
| Power | 31KW, AC220V/380V |
| Weight | 11T |
| Dimension | 19000mm*2050mm*1600mm(L*W*H) |
| Inching speed | 40m/min |
| Compressed air | 6 bar |
| Air compressor capacity | 10m/3 |
| Air tank capacity | 60L |
Corrugated paperboard production line description
Wet Section Equipment
The Wet section equipment is the key equipment for corrugated paper forming in the corrugated paper production line. It mainly involves the influence of paper, glue, steam, and other factors on the quality of paper forming. The key equipment of the single-end corrugating machine in the wet end should be the equipment with advanced technology and positive pressure card-type single-end corrugator. The numerical display of the adjustable gap and the control of the glue amount is very important.
Read Also: https://www.ygpapermachinery.com/fourdrinier-machine/

The wet section equipment mainly includes base paper support frame, automatic paper splicer, preheating preconditioner, single facer corrugator, paper feeding bridge, gluing machine, double facer, etc. The wet end equipment makes corrugated base paper into different flute types Combination of three, five, and seven layers of corrugated cardboard.
Dryer Section Equipment
Among all of the dryer section equipment, the corrugated paper slitter machine is the equipment that affects the production efficacity. You should choose carefully the machine. The knife should be movable. For the dust-proof treatment of knives and guide rails should consider purchasing Taiwan ceramic tiles.
This section mainly includes rotary cutting machine, slitting and creasing machine, cross-cutting machine, stacker, etc. The equipment performs slitting, creasing, cross-cutting, and stacking of corrugated cardboard according to the order requirements.

Production management system
The production management system can not only monitor the production site but also save, calculate and print the production data.
Process Flow Diagram
Raw materials (waste paper)——chain conveyor——pulper——hign density cleaner——pressure screen——fiber separator——reject separator ——low density cleaner——inflow pressure screen——paper making machine——the big finished jumbo paper
YG Paper Machinery
YG Paper Machinery is a paper machine manufacturer from China. We have been engaged in paper machine manufacturing for 18 years. Our machines and services have been praised by our customers from all over the world. We provide many pieces of equipment, such as A4 paper production line, kraft paper making machine, Paper roll rewinding cutting machine, toilet paper making machine, etc. If you want to start a project on the paper production line, please leave your messages below.