A4 Paper is an item that we use often in the office. A4 paper is the most common thing in life and work. Everyone knows that A4 paper is white paper in the shape of a rectangle. And, why is A4 paper called A4 paper? It makes sense. The most ordinary things often contain the greatest energy, so let's take you into the world of seemingly simple A4 paper. Contact us to get the a4 paper cutting machine price.
Why do we call it A4 paper?
First, we have to start with the A-size paper. What is A size paper? A-size paper is actually a batch of paper of different sizes. The number carried behind it can be understood as the number of times folding each other in half, while A4 paper is actually the size of A0 paper that is folded in half for the fourth time.
The A4 paper size is 210mm×297mm.
Read also:
A4 size paper cutter machine for sale
The A4 paper roll cutting machine is composed of a paper roll holder, an automatic tension controller, and a high-precision paper cutting system. This production line can be connected with an A4 Paper packaging machine.
Read here a working case of A4 paper cutting and packing machine.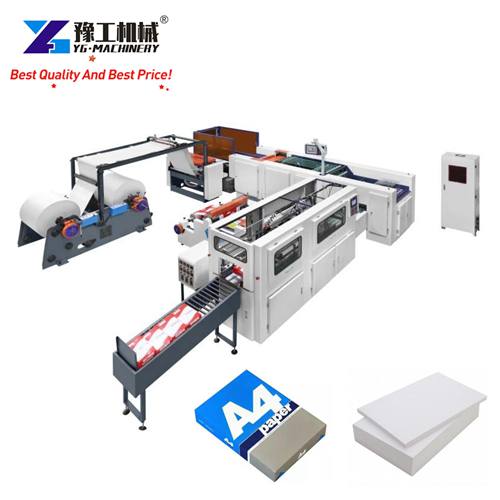 A4 Copy Paper Roll Cutting Machine
Paper grade: high-grade copy paper, high-grade writing paper, high-grade offset paper, and other high-grade pape
Ream output: 22 reams/min (A4 size)
Paper cutting accuracy: allowable error ±0.2mm
Diameter of paper shaft: Max.Φ1200mm
Main Technical Parameters of The A4 Copy Paper Cutter Machine
Working width: Gross width: 846mm, Net width: 840mm
Paper cutting length: The paper cutting machine is designed to process A4, and A3 paper, and its cutting length is 297mm
Production running speed: Max. 0-150m/min (according to different papers)
Transmission: rheological frequency step-less speed regulation
Control voltage: 220V AC/24V DC
Compressed air consumption: 300NL/min
Trimming: Max. 10mm × 2, Min. 3mm × 2
Packaging specifications: A4–210×297×50mm A3–420×297×50mm, according to the stacking height of 500 copies of copy paper
Compressed air: 0.6Mpa
The total power of the production line: 45KW
Number of cuts: 4 cuts – cross-cut length 297mm
Diameter of paper core: 3″(76.2mm), 6″(152.4mm)
Paper weight range: 60-100g/m2
Ream count: 500 pages, ream height Max. 65mm (you can adjust the number of sheets through the touch screen)
Paper cutting load: Max: 500g/m2 (5×100g/m2)
Main power supply: 3-phase-380V-50HZ
Compressed air pressure: 6Bar
Total weight of equipment: 16 tons
Safety range: designed in accordance with the current state-owned safety standards

FEATURES
The Copier Cutting Machine is designed for slitting and sheeting a wide range of papers to produce copier paper direct from reel to sheet to save costly wastage. This machine integrates electrical automation, a PLC control system, and mechanical automation. A4 paper cutting machines uses a fully automatic system and include automatic oil lubrication. This equipment is suitable for Paper mills, Converting houses etc.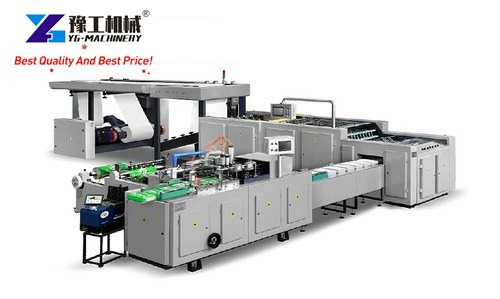 A4 Paper Cutting Machine Price
How much is an a4 paper roll cutting machine? If you are looking for an A4 Sheet Cutting Machine, please contact us to get a free quote. YG Machinery is a professional and top Paper Cutting Machinery manufacturer and supplier. We provide the high-Quality machine at a competitive price. Feel free to leave your messages, and our sales manager will contact you as soon as possible.
Paper Reel To A4 Size Paper Sheet Cutting Machine Manufacturer
Henan Yugong Machinery Co.Ltd. has 17 years experience of paper machinery manufacturing experience. Our hot sale machines: paper cup machine, toilet paper making machine, wet wipes making machine, etc. Please contact us with your requirements in detail, and we will offer you the best price.