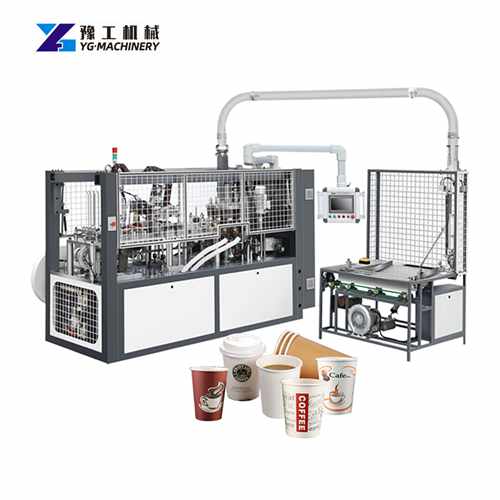 High Speed paper cup machine
The paper cup machine is suitable for the production of paper cups, such as tasting drink cups, teacups, coffee cups, advertising cups, ice cream cups, or other food containers.
Speed: 60-90pcs/min, 100-150pcs/min
Cup size: 6oz-22oz
Raw Material: Single PE coating paper
Parameters
Model
YGM-22D
YGM-22S
Cup size
6oz-22oz
6oz-22oz
Raw material
Single PE coating paper
Single and double PE coating paper
Paper thickness
160-280gsm
160-300gsm
Top mouth diameter
60mm-90mm
60mm-90mm
Bottom diameter
40mm-70mm
40mm-70mm
Bottom depth
5mm-10mm
5mm-10mm
Height
60mm-180mm
60mm-180mm
Capacity
60-90 cups per minute
60-90 cups per minute
Main motor power
1.5kw
1.5kw
Total power
11.5kw
16kw
Energy consumption
6-6.5 kW / hour
7-7.5 kW/ hour
Air consumption
0.4m3/min, 0.5-0.8Mpa
0.4m3/min, 0.5-0.8Mpa
Weight
2200kg
2200kg
Dimension
1750x1350x1850mm
1220x950x2080mm
1900x1350x2000mm
1220x950x2080mm
Paper cup machine Features
Different types of paper cups can be produced: 4 oz -16 oz paper cups.
Products are environmentally friendly. Degradable and pollution-free.
Production is fast: It can produce 40-50 paper cups per minute.
Resistant to high temperatures: It can hold liquids with a temperature of about 80°C.
Small footprint: Only 2.28 square meters.
Does not contain any human harmful substances.
Easy to use.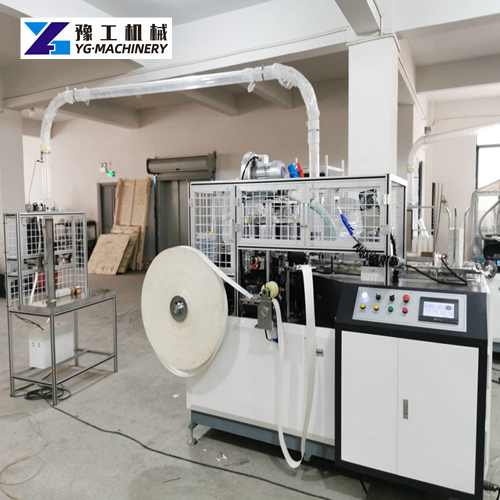 Production Process
The printing machine will print the logo on paper raw materials. The reels are printed and cut into carefully measured cup sidewall blanks. The blanks are inserted into cup-forming machines that wrap the blanks into a cup shape and add the bottom. The seams of the cups are heated in order to make the cups liquid-proof.
Read also:
Working Video
Working case
Here a re two new workling cases of our paper cup making machine:
About Us

Henan yugong machinery co., ltd.
Henan Yugong Machinery co., ltd. is a top and professional paper machine manufacturer from China. We have more than 17 years' experience in machine manufacturing. Our machines have been exported to many countries, for example, Indonesia, Mexico, Mongolia, Guatemala, the Philippines, Turkmenistan, etc. Besides the paper cup production machine, YG Machinery offers also baby diaper making machine, tissue paper making machine, paper cup sleeve machine, etc.
If you have any questions or concerns about the paper cup forming machine, please leave your messages. We are here to help!