Multi-layer kraft paper bag, do you know how to make it? The multi-layer paper sacks are widely used in industry. And they can pack food, cement, concretes or pigment, etc. In this guide, we will talk about the Multi-layer Kraft Paper Bag Machine. And we will list the machine parameters, machine photos, and finished product photos for your reference.
Multi-Layer Kraft Paper Bag Making Machine For Sale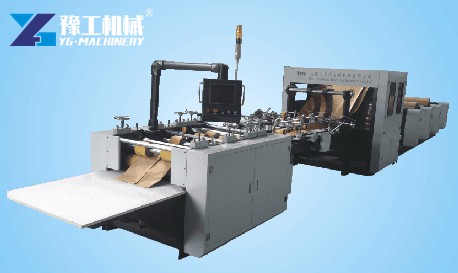 Bag Length: 500-1100mm
Bag Width: 320-600mm (can be adjusted at will);
Number of bag making layers: 1-4 layers (or 3+1 film)
This equipment is suitable for making heavy-duty kraft paper bags. These paper sacks are widely used in industry. And they can pack food, cement, concretes or pigment, etc. And such kraft paper bag is normally 3 layers or 2 layers with a layer of plastic film.

Heavy-duty kraft paper bags making machine parameters
Bag making length: 500-1100mm (touch screen control, servo fixed length, if there is a color bag, it can be cut off according to the color mark);
The width of bag making: 320-600mm can be adjusted at will;
Coil width: A: 660—1220mm;
The maximum allowable paper roll diameter: B: 1200mm (the diameter of the paper roll can be customized according to customer requirements);
Paper weight: C: 70-140 grams;
The allowable diameter D of the roll paper core: Ф76mm (domestic standard paper core);
Number of layers for bag making: 1-4 layers (or 3+1 film);
Bag making speed: 30-108m/min (the speed is about 80m/min when connecting to the printing machine);
Optional: Full servo control dispensing system, speed synchronization paper bag machine.
4 colors Kraft Paper Printer Machine
This 4 colors Kraft Paper Printer Machine can print 1 to 4 colors. The equipment is controlled by a PLC control system.
1-4 Colors Paper Printing Machine
Maximum printing speed:10-18m/min
Printing length: 260-1370mm
Suitable for printing chemical bags, cement bags, food packaging bags, handbags, and other industrial bags.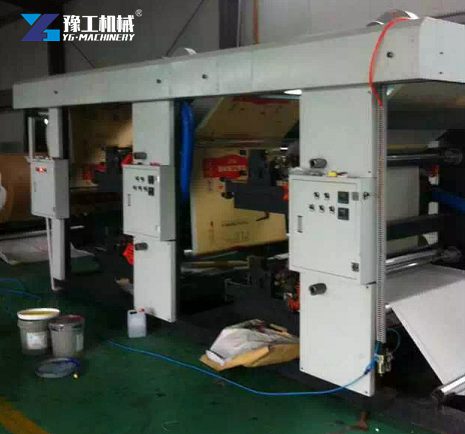 Kraft Paper Bag Printing Machine Technical Parameters
| | |
| --- | --- |
| Model | FD1250 |
| Effective printing width | 1160mm |
| Maximum width of the substrate | 1250mm |
| Paper size | 70gm2-140gm2 |
| Maximum printing speed | 10m/min-80m/min |
| Maximum diameter of rewinding and unwinding | Φ1200mm |
| Printing length | 260-1370mm |
| Color registration accuracy | ±0.3mm |
| Oven heating power | 35.2kw |
| Total machine power | 43kw |
| Machine weight | 5500kg |
| Dimensions (length*width*height) | 7815×2200×2300(mm) |
Multi layer Kraft paper bag making process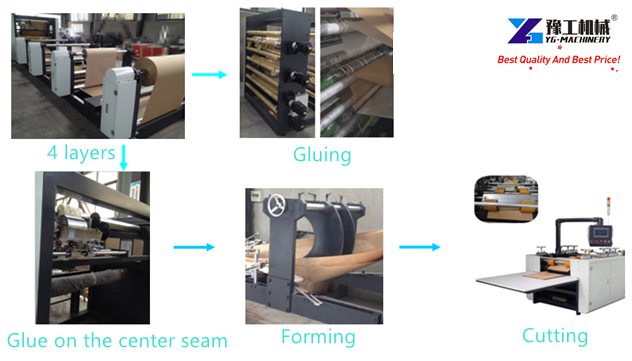 YG Paper Machinery
We provide types of paper machinery, such as paper cup machines, paper bag making machine, paper lid forming machine, paper making machine, paper cutting machine, paper plate making machine, etc.