Paper Roll Die Cutting Machine is a full-automatic high-precision web die-cutting machine. It is professional equipment for pressing and cutting various ordinary paper and coated paper. It is suitable for printing, packaging, paper cups, and other paper container production industries.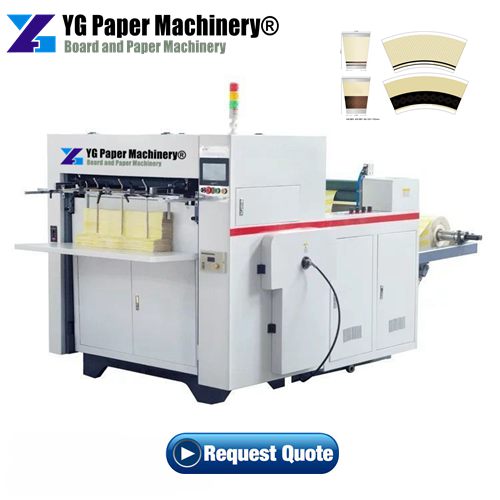 Technical Parameters
| | |
| --- | --- |
| Normal speed | 100-180 times/min |
| Max pressure | 60 tons |
| Workbench size | 850mm*270mm |
| Eccentric gear range | 30mm |
| Overall size | 2800mm*1900mm*1850mm(L*W*H) |
| Weight | 3000kgs |
| Height on land | ≤3000mm |
| Feed paper roll diameter | ≤1.4m |
| Feed paper roll weight | ≤3tons |
What is a Roll Paper Die Cutting Machine?
Roll paper automatic die-cutting machine is used to press and cut various cartons, paper cups, paper bowls, surrounding labels, gift bags, Tetra Pak cardboard, window paper, cigarette packs, mosquito coils, paper-plastic covers, aluminum-plastic covers, Non-woven fabrics, PVC folding boxes, various plastic sheets, and other materials, as well as special equipment for molding, die-cutting and creasing of different plastic products.
It is suitable for the production of paper and film industries. Under the traction of the servo motor, the roll paper is sent to the flat die-cutting station. The amount can be set through the screen, which is convenient and accurate. Both white paper and printed paper can be die-cut, and the tension system adopts a pneumatic clutch, which is fast and reliable.

Die Cutting Machine Features:
It adopts advanced worm gear and worm structure of the movement, and synchronously sends oil to all parts of the movement to prolong the service life of the equipment.
Using advanced typesetting technology, fan-shaped paper can save up to 18%, saving manpower and improving production efficiency.
Control feeding, realize color mark tracking, and ensure die-cutting accuracy.
According to the typesetting of the paper, different shapes of blades can be used, and the blades can be locked pneumatically, which is easy to replace.
The double-row rubber rollers for paper feeding move synchronously at random, and at the same time, the wind assists paper feeding, which improves the paper feeding function.
Reel embossing tape die-cutting, creasing, corrugation, multi-purpose machine.
Flatten cutting process flow chart as follows:
Put into paper roll → Down oil cylinder → Propel paper roll → Roll in the middle → Inflatable shaft swell → Up oil cylinder → Feeding paper → In middle position → Start to die cutting.
Read Also: Paper Cup Forming Machine for sale| High speed | Automatic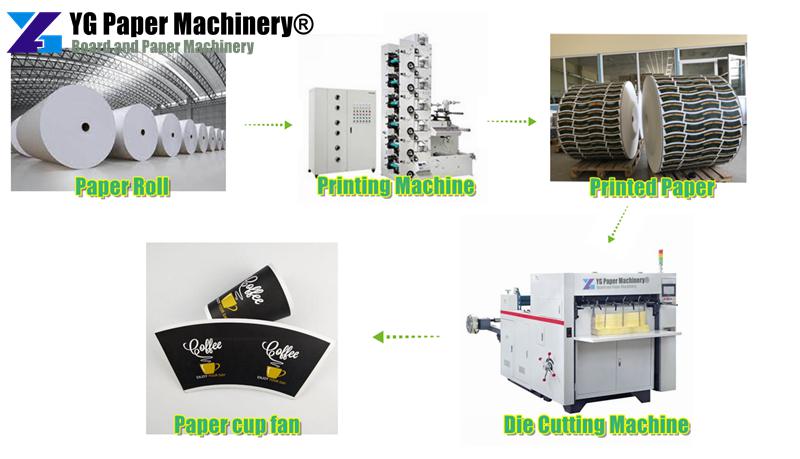 Working Video
Packing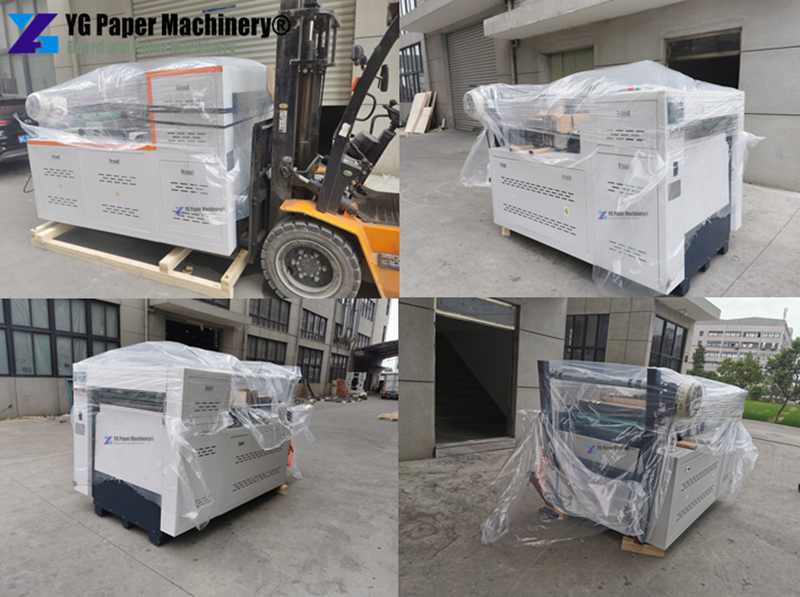 YG Paper Machinery
YG Paper Machinery belongs to Henan YG Machinery. Located in Zhengzhou city, Henan province, YG Paper Machinery manufactures and provides all kinds of paper machines, such as A4 Paper Making Machine, Kraft Paper Making Machine, Corrugated Cardboard Paper Making Machine, Toilet Paper Making Machine, Cardboard Box Forming Machine, Paper Cup Making Machine, Paper Cup Lid Making Machine, etc.
If you are interested in the paper machine, please leave your requirements below. We will help you to make a business plan. Request a free quote now,