What is a paper cup sleeve glue equipment? What is it used for? How much is the paper sleeve making machine? Read here to learn more about the paper cup sleeve machine for sale.
YG-35 Duoble wall paper cup sleeve forming machine is the automatic equipment through the procedure of automatic feeding, sealing, gluing, and closing at one time to let the cups have a double layer or ripple layer to avoid heat. Contact us to get the Automatic Paper Cup Sleeve Machine With Ultrasonic Sealing Price.
Paper Cup Sleeve Machine Parameters
Here are the technical parameters of our paper cup sleeve machine. Note: We can customize the machine and mold according to the customer's requirements.
Name
PAPER CUP SLEEVE MACHINE (DOUBLE LAYER/RIPPLE LAYER)
Model
YG-35
Paper Cup Size
6-16oz
Paper Cup Top Diameter
Min 65mm-max94mm
Paper Cup Bottom Diameter
Min45mm-60mm
Paper Cup Height
Min60mm-135mm
Raw Material
PE-COATED PAPER. RIPPLE PAPER ETC
Speed
50-55pcs/min (Speed of 20 hours stable running per day)
Suitable paper weight
150-350gsm
Voltage supply
220v50hz single phase/ 380v50hz 3-phase
(better to use 380v50hz 3-phase)
*If the user's voltage supply is different, please inform us in advance.
General power
4.7KW
Net weight
1500kgs
Measurement (mm)
2150*950*1650MM
Cup Side Sealing
Ultrasonic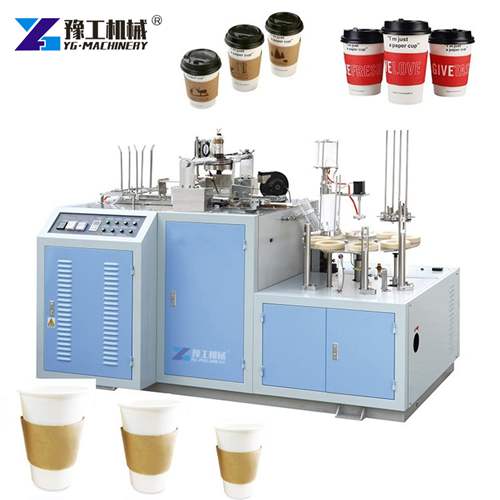 Features
The automatic lubrication system reduces the wear of machine parts and improves the stability of equipment production.
Reasonable design, and stable operation of equipment.
Easy to operate.
The machine adopts Ultrasonic sealing.
It is a multifunctional Cup Sleeve Glue Machine. It can produce hollow cups, corrugated cups, and solid paste cups.
The equipment is suitable for double-layer milk tea cups, double-layer coffee cups, and corrugated cups.
Paper Cup Sleeve Machine Working video
YG Paper Machinery
Henan YG Paper Machinery is a professional paper products making machine machinery. With more than 17 years of manufacturing, our equipment has been exported to many countries and been praised by our customers. We provide paper making machine, paper roll rewinder, paper cup machine, paper bowl making machine, paper plate making machine, etc. If you want to buy the machine, please contact us. Factory Price, High quality. Fast delivery. 7/24 online services support.