Summary: Wet tissues can be widely used when sports activities, traveling, camping, fishing, outdoor events, in offices, hotels, restaurants, bars, etc. In this article, we will introduce the YG wet wipes machine for sale.
Automatic Wet Wipe Production Line | Unwinding, Cutting, Packing
Generally, wet wipes can be divided into baby wipes, household cleaning, cosmetic wipes, general purpose wipes, wet toilet paper, and feminine care wipes.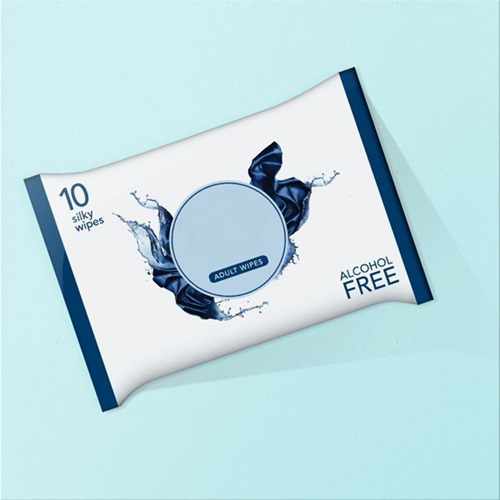 So if you need to get the wet tissue machine price, please tell us what kind of wipes you want to produce. Or you can contact us via WhatsApp at 008613598866720 to get help.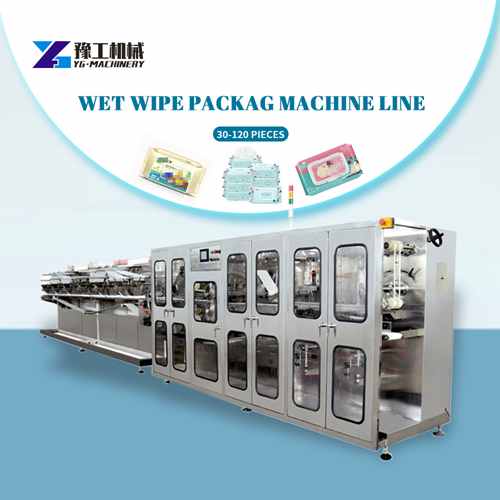 Wet Wipes Sealing Foil Machine
Raw materials: Spunlace nonwoven fabric, hot-rolled non-woven fabric, dust-free paper, etc.
Type: 1-120 PCS/Pack Wet Tissue Machine
Production flow: Unrolling – Folding – Wetting – Cutting – Piling – Packing – Delivering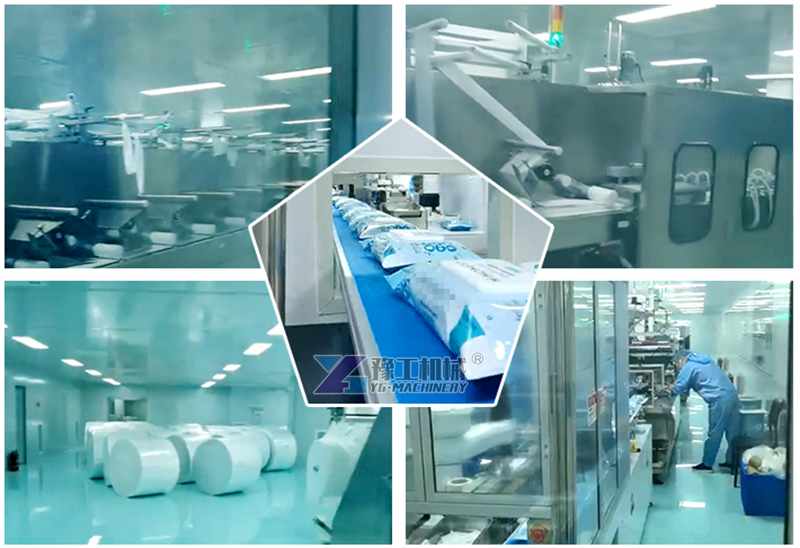 Technical Parameters
| | |
| --- | --- |
| Production speed | 270~400 cuts/minute; about 40-50 bags/minute |
| Number of slitting channels | 12 channels |
| Width | 1000-1520mm |
| Power supply | 380V 50HZ three-phase power |
| Total power | 13KW |
| Applicable raw materials | Spunlace non-woven fabric, hot-rolled non-woven fabric, dust-free paper, etc. |
| Material weight | 35-80 g/m2 |
| Folding method | 'Z'-shaped folding (with or without extraction) |
| Humidification method | Preset automatic metering humidification |
| Humidification accuracy | +5% |
| Machine net weight | 9000kg |
| Humidification mixing system | Double mixing barrel with agitator |
| Mixing barrel size | 800×800 (mm, diameter×height) |
| Capacity | 400 liters * 2 pieces |
Production Process
Put the mother roll into the bracket → Automatic unwinding → Automatic tensioning → Sub-web folding → Synchronous feeding → Quantitative humidification → Length cutting → Stacking → Synchronous conveying → Automatic hole cutting → Automatic labeling → Automatic packaging → Heat sealing and cutting → Automatic Dynamic exhaust → Automatic sticking cover → Finished product

Check here a working case of Wet wipes machine for sale in UAE.
Wet Wipes Making Machine Features
Control driving system: PLC, GOT operation interface, precision transmission by servo motor.
Unwinding mechanism: Independent drive, automatic control of tension.
Folding and traction mechanism: Various adjustable folding ways, synchronous transmission by servo traction.
Quantitative humidifying system: two sets of shower pipes, uniform humidifying in 2.5-4.0 times scope.
Rotary cutting-off system: Cut off by rolling cutter synchronously, cutting length controlled precisely, flexible and easy adjustable nonwovens length.
Folding and conveying device: Folded neatly by manipulators, synchronous and flexible transmission of wet wipes.
Bag making and forming device: The tension of the film and width and height of packing bags can be adjustable automatically.
Packaging, cutting, and sealing device: Adopting advanced horizontal sealing of Chinese mainland – Taiwan Rufong vertical sealing technology. The seal is firm and beautiful.
Safety guarantee system: Fixed, movable, and closed preventive device.
The part touching the liquid is made of 304 stainless steel.
Working video
What is wet tissue? Wet tissues are moistened paper towels used to wipe the skin. Since the development of wet wipes in the 1960s, there are two types. One is with disinfection effect, which can disinfect or sterilize skin scratches and scratches; the other is only used as skin moisturizing and maintenance products without a disinfection effect. As a product used in multiple scenarios such as homes, hotels, and hospitals, wet wipes have shown a trend of continuous growth in the global wet wipes market in recent years with the improvement of people's spending power and hygiene awareness.
So the wet tissue manufacturing business is a profitable project that you can consider. You can click here to learn more about the baby wet wipes machine.
Wet wipes manufacturing cost
The cost of wet wipes manufacturing depends on many factors, such as the type of machine, the raw materials, the production scale, the labor cost, the packaging and the market demand.
According to some sources, the cost of raw materials can vary from $0.07 to $1.50 per wipe. The global wet wipes market size is expected to grow at a CAGR of 3.6% from 2022 to 2030. You can calculate the wet wipes manufacturing cost according to theses data.
Wet wipes machines manufacturer | YG Paper Machinery
As one of the top wet wipes machine manufacturers in China, Henan Yugong Machinery has more than 18 years experiences of wet tissue machine manufacturing. Advanced technology, professional services team, and you don't need to worry about anything.
If you really do not know how to choose a good supplier or manufacturer of wet wipes machine, you can read this guide.
We provide wet wipes folding and cutting machines, wet wipes bag making and forming devices, wet wipes packing machines, etc. If you have any questions about the wet wipes production line, do not hesitate to contact us. Our sales manager will offer you the best services. WhatsApp/WeChat/Viber/Telegram: +8613598866720
Besides the wet tissue machine, we have also Meltblown Nonwoven Machine, Toilet paper production line, Paper roll splitting and rewinding machine, sanitary pad machine, and other equipment.