YG Thermal Paper Slitting And Rewinding Machine can be used for slitting and rewinding various thermal paper, including fax paper, ATM paper, ECG drawing, medical recording paper, self-adhesive labels, non-woven fabrics, films, etc. Contact us to get the thermal paper slitting and rewinding machine price now. WhatsApp/WeChat: +8613598866720.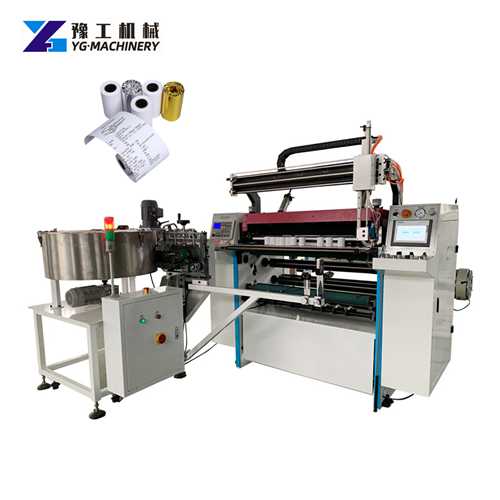 Thermal paper slitting and rewinding machine
Average 10000 rolls/8 hours;
Siemens PLC control system;
Mechanical chain type automatic feeding;
Redline marking system
Thermal paper is also known as thermal fax paper, thermal recording paper, thermal copy paper, is one type of is a processed paper. This paper roll cutting machine can cut various specifications of thermal papers. The machine adopts the surface rewinding method, automatically prints the warning line, intelligently sets the length, and manually adjusts the unwinding tension. Check the machine parameters below.
Technical Parameters
| | |
| --- | --- |
| Model | YG-900 Paper Roll Slitting Machine |
| Maximum unwinding width | 900mm |
| Maximum unwinding diameter | 1000mm |
| Maximum winding diameter | 160mm |
| Maximum slitting width | 25mm |
| Maximum speed | 150m/min |
| Unwind the reel | 3 inch air shaft |
| Reel | Available in 0.5″, 1″ (or customized according to your needs) |
| Voltage | 3 phase, 380V, 50Hz |
| Power | 2.95Kw |
| Weight | 1200kg |
| Machine dimensions | 1900mmx1900mmx1500mm |
Features
Siemens PLC and Touch screen control: All the parameters are displayed on the screen, and the machine will work automatically.
Siemens variable frequency motor, which is controlled by an Inovance inverter.
Mechanical chain type automatic feeding.
All drive shafts are processed dynamically/statically to ensure the stability and accuracy of the material transfer and slitting process.
Redline marking device for printing a red line at the end of the roll.
The circular knife is used for slitting, and the machine is equipped with a fan and air duct for processing waste edges.
Automatic inserting knife, quick trigger rewinding.
2 sets of load cells and an automatic tension controller can maintain constant tension.
Automatic meter function: When the set length is reached, the machine will automatically stop.
The scroll wheel avoids overlapping problems.
Emergency switch.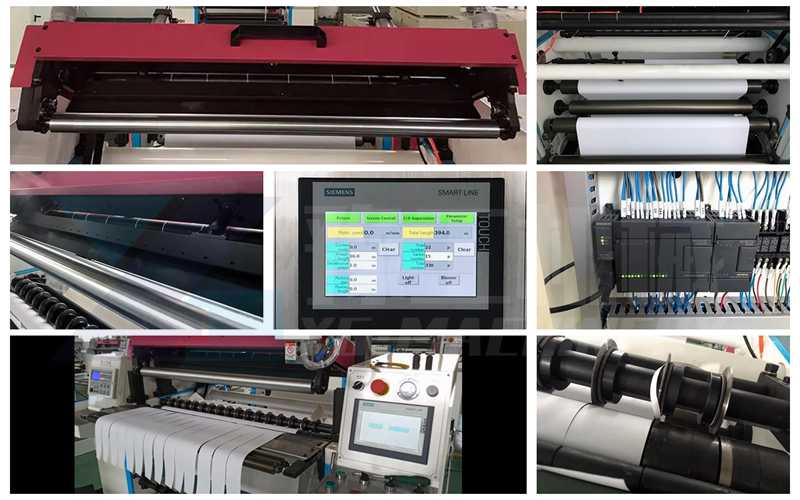 What is the capacity of the thermal paper cutting machine? In 8 hours, YG-900 Slitter Rewinder can produce 10,000 rolls of 57×50 rolls, about 100 cases (100 rolls/case). And the machine needs to be maintained once a month, lubricating oil. Maintaining this normal maintenance can reach 10 years of service life. Many of our customers have been using thermal paper roll slitters for 15 years. If you are looking for this machine, please contact us to get a free quote.
We provide also a thermal paper making machine, thermal paper printing machine, and thermal paper packaging machine. The packing machine and cutting machine compose the thermal paper production line. YG Machinery can help you to start your business with a detailed plan. For any questions, please leave your messages now. We are here to help!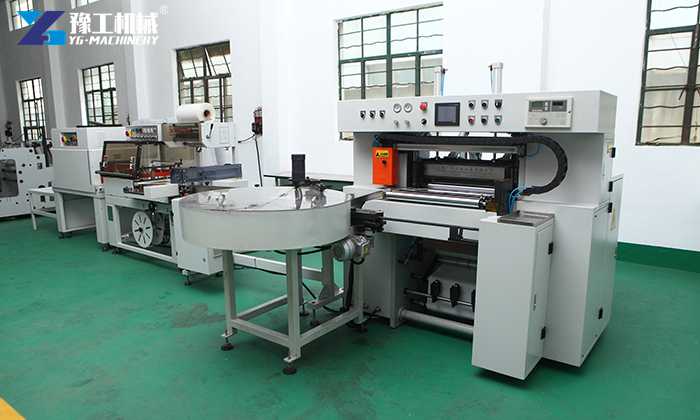 Professional Thermal paper slitting and rewinding machine Manufacturer
With more than 17 years of manufacturing experience, we have customers from all over the world.
FAQs
How to start a thermal paper roll business?
With low input and a high rate of return, the thermal paper roll business is a profitable business with less demanding workshop requirements. The machine requires only 100 square meters.
To start making small rolls of thermal paper, lottery rolls, and POS rolls, you need a thermal paper roll slitter, a paper or plastic core, a master roll of thermal paper, and some wrapping film, bags, or shrink wrapping machines. YG Paper Machinery can provide you with a complete solution.
I am new, how to operate this machine?
Do not worry. We are a professional and reliable machine manufacturer and supplier. We provide the full range of services. YG Paper Machinery provides the Video operation guide and our engineers can also travel to your factory to train your workers on-site. We have a professional after-sales services team and offer 7/24 online services. So for any questions, just give us a call.
Who are the end customers of thermal paper rolls?
Thermal papers have a wide application. It is mainly used in large shopping malls, supermarkets, street convenience stores, ATM machines, and POS machines in banking systems.
What if the thermal paper roll slitter is out of warranty?
The warranty period of our machine is 1 year, but the technical support is lifetime. No matter where you are, we can solve the problem by web, email, or video call; any accessories can be sent to you by courier.
We provide also other related paper cutting machines. If you need to learn more about our machines, please leave your messages here!