Our sanitary napkin making machines are ideal for producing high-quality daily/night sanitary napkins. The sanitary pad making machine is robust and easy to operate. Find here a semi-automatic sanitary pad machine and a high-speed fully automatic sanitary napkin manufacturing machine for sale.
Read also: How to choose a suitable sanitary napkin machine?
➡ Fully automatic Sanitary pads machine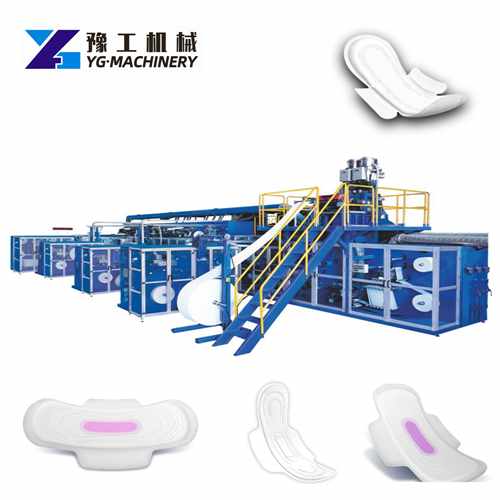 We recommend producing two different sizes to avoid compromising the stability of the machine and the quality of the product, such as 240mm/280mm, and 280mm/320mm.
| | |
| --- | --- |
| Volume (million pieces/ year) | 90-240 million pieces |
| Designed Speed | 500pcs/min |
| Stable Speed | 450pcs/min |
| Passing rate | ≥ 97% (Not include the glue applicator, Auto Splicing) |
Technical parameters
| | |
| --- | --- |
| Technical Parameter | |
| 1. Power Supply | 3 phase, 5 wires (380v, 50HZ) |
| 2. Power Installed | 250KW (includes Glue filter) |
| 3. Power Used | 200KW |
| 4. Electric wire | 3×120mm2+1×50mm2+1×25mm2 |
| 5. Compressed Air Supply | 0.6~0.8Mpa |
| 6. Compressed Air Absorption | 4000 Nl/min |
| 7. Machine Size | 24.0m× 3m× 3m(L× W× H ) |
| 8. Working Size | 28m× 6 ´3.5m (L× W× H ) |
| 9. Machine Weight | about 40Tons (whole production line) |
| 10. Machine Color | Confirm with Customer |
| 11. Machine Direction | From Right to Left (can be designed as customer's demand) |
| 12. Containers | 4´ 40 HQ containers |
| 13. Product Size | As a customer's requirement |
| 14. Product Type/Structure | a.fluff core: top sheet, fluff core (with SAP), back sheet, back release paper, wing release paper, pouch film, easy tape. |
| | b. ultra-thin: top sheet, air-laid, SAP paper, back sheet, back release paper, wing release paper, pouch film, easy tape. |
| Environmental Data | |
| 1. Temperature | 10 – 35°C |
| 2. Humidity | 55% RH ±5 |
| 3. Noise Level(Measured at a distance of 1 meter) | ≤ 87 dB |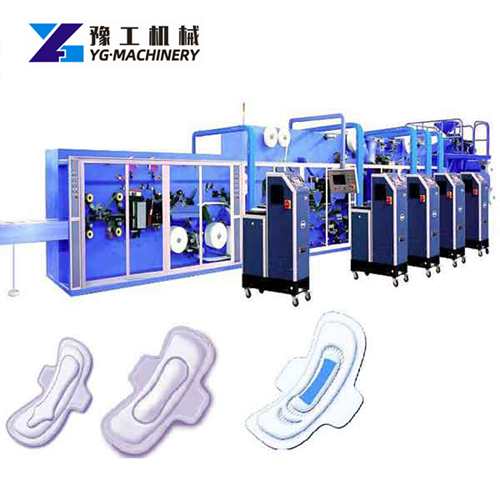 ➡ Low-cost Sanitary Napkin Making Machine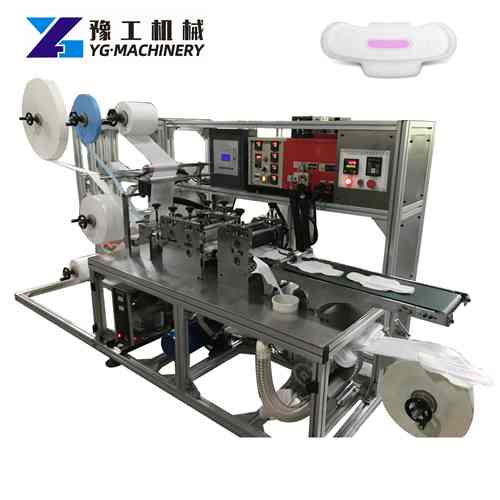 This manual gluing sanitary pad making machine can manufacture lady sanitary pads with a capacity of 250 pieces per minute.
| | |
| --- | --- |
| Power Supply | 220v, 7Kw |
| Productivity | 160-250pcs/min |
| Product Dimensions | 250*160mm |
| Machine Dimensions | 4*1.1*1.6m |
| Weight | 900kg |
Characteristics
The machine is used for hygienic, high-speed, and efficient production.
Use ultrasonic waves and special steel roll, no seam, and no heating.
The service life of the steel cutting die is 10 times longer than that of the traditional one. Smoother, more beautiful, without wrinkles.
Automatic negative ion patch machine, size 80*30mm.
Automatic backing and release paper attachment, with higher efficiency and easier operation.
Size of sanitary towel (length * width): 260 *160mm, other sizes according to customer requirements;
The machine has the function of automatic counting to stop production when setting.
Equipped with 6 feeder rollers, each of which has individually adjustable tension.
Suitable for PP nonwovens, hot air/ventilated nonwovens, PE film, SAP paper, SS hydrophilic nonwovens, etc.
High ultrasonic power, adjustable power, suitable for different material thicknesses and welding.
Powerful output of an advanced high-speed motor, adjustable ultrasonic power according to the fabric.
Built-in computer chip multi-channel ultrasonic protection system to ensure the safety and stability of the host.
Working video
Our factory
Henan Yugong Machinery Co. Ltd is one of the top 10 Sanitary napkin equipment manufacturers. We are a domestic first-class professional company that designs and manufactures disposable feminine hygiene products production equipment. Located in Zhengzhou, a beautiful city in Henan Province.
YG Paper Machinery is a professional sanitary napkin equipment manufacturer, diaper making machine manufacturer. Since the establishment of the company, hundreds of production lines have been successfully sold to more than 30 countries and regions such as Africa, Southeast Asia, the Middle East, Europe, and the Americas. With pragmatic professionalism, rigorous work attitude, rich production experience, and effective professional services, YG Machinery gets a high opinion from users from all over the world.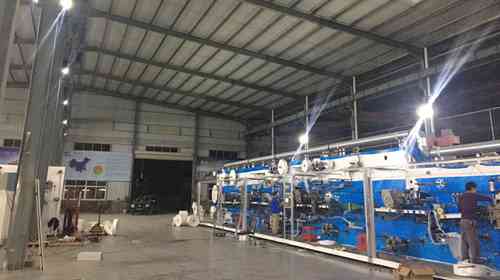 FAQs
1. How sanitary pads are manufactured?
Here is the production principle of sanitary napkins: All the raw materials (such as non-woven fabrics or cotton fabrics, perforated films, fluff pulp, water-absorbent resins, cast films, hot melt adhesives, etc.) through a series of mechanical equipment and a process of pressing and forming.
2. Sanitary pad making machine price
The cost of the machine for sanitary pads depends on the degree of automation. The semi-automatic type is a low-cost sanitary pad machine. And relatively, the fully automatic sanitary napkin machine price is very high. Please contact us to get a detailed quotation. WhatsApp/WeChat: +8613598866720.
3. Is the sanitary pads business profitable?
Sanitary pad manufacturing is a profitable business. You can start with a low investment. So it is a great business opportunity for now who want to start a small-scale manufacturing business. In conclusion, Napkin manufacturing is cheap and a lucrative business model since many women use these products.
That's it. If you have any questions about the machine or this article, please leave your messages here.