I have received the napkin machine. It is in good working condition. Thanks for your careful guidance. Eva is very responsible and patient with me. Thank you YG Paper Machinery for your full support to us.

Mr.Mustafa
This is feedback from our customer Mr.Mustafa from Azerbaijan. He is very satisfied with our napkin machine. The napkin machine is to emboss, fold and cut the cut paper into square or long paper napkins.
Are you also looking for a napkin paper machine, tissue paper making machine, or small size pocket handkerchief paper machine? Please check below.
Tissue Paper / Facial Napkin Paper Machine for Sale
Machine Speed: 0-700 sheets/min
Voltage: 220V/380V
Paper size: ≤φ1200mm
Single color / 2 colors printing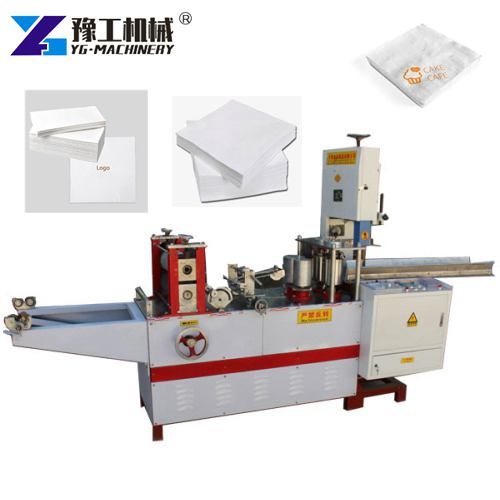 Technical Information
| | |
| --- | --- |
| Model | YG-180/200/260/280/300 |
| Raw material diam | 1100 mm |
| Control system | Frequency control, electromagnetic governor |
| Embossing roller | Cots, Wool Roll, Steel to Steel |
| Embossing type | Customized |
| Voltage | 220V/380V |
| Power | 4-8KW |
| Production speed | 0-700 sheets/minute |
| Counting system | Automatic electronic counting |
| Printing method | Rubber Plate Printing |
| Printing type | Single or Double Color Printing (Optioned) |
| Folding Type | V/N/M Type |
Automatic embossing and folding during the production process without manual folding. The pattern of napkins can be customized according to customer requirements.
Features of Napkin Paper Machine
Fast production speed and strong stability.
We can customize the paper embossing machine to produce various clear and beautiful patterns according to user needs.
Automatic counting, divided into whole columns, convenient for packaging.
Various types of models can be manufactured according to user requirements.
More functions to customize: Synchronous conveying function, automatic paper loading function, single-color printing function, double-color printing function.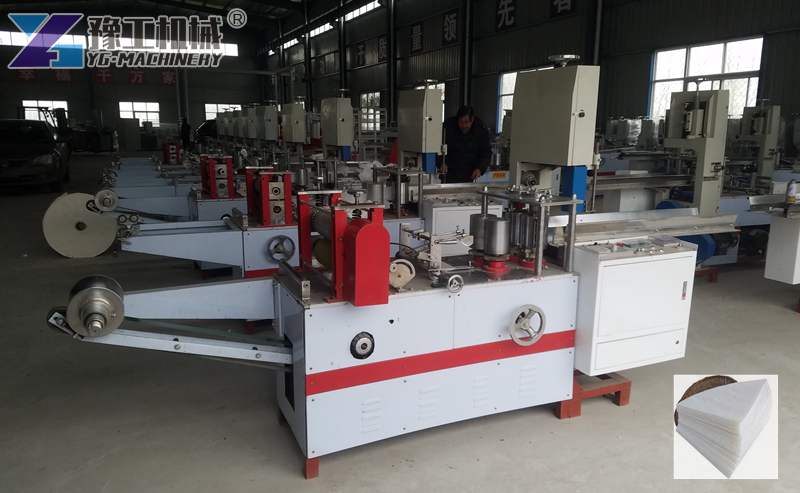 How is made napkin paper?
The production process of the napkin paper machine is:
Paper roll—embossing—folding—cutting—finished napkin paper—Packing.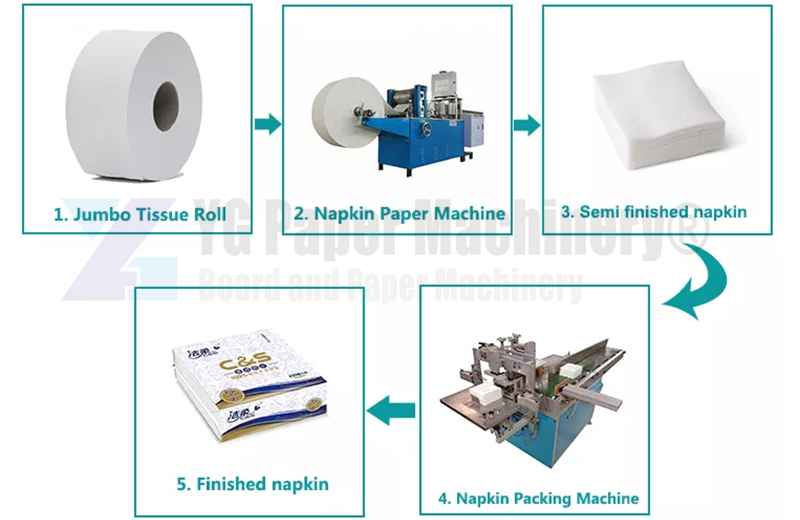 Paper Napkin Folding Machine Price
The napkin machine is not expensive and is suitable for small investors. If you want to start a small business, then napkin paper manufacturing is a good choice. Contact us to get the fully automatic tissue paper making machine factory price.
Tissue Paper Packing Machine
This is a semi-automatic packaging machine of extractable facial tissue and napkin. The paper towel is conveyed and compacted by the conveyor belt, and then automatically bagged, sealed, and cut into waste after manual bagging.
Adopt PLC computer programming control, LCD text display parameters, can set parameters for related systems, realize man-machine dialogue, and control more precisely.
1 person can operate the machine: Reduce the manufacturing cost and management cost of the enterprise, and reduce the production space.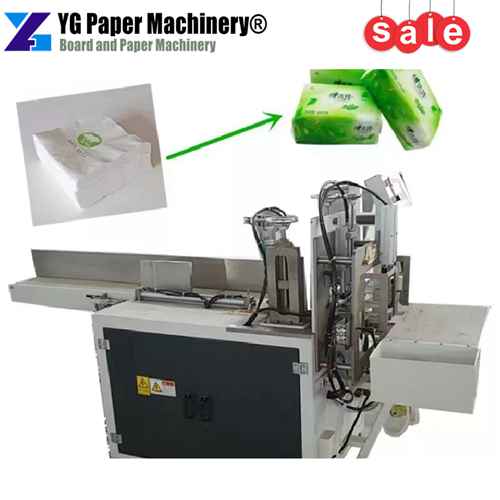 FAQs
1. What material are napkins made of?
There are many raw materials for napkins, such as recycled paper, sugarcane pulp paper, mixed pulp, wood pulp paper, etc. These raw papers must be processed again by napkin paper machines before they can be finished.
2. How much space is needed?
The equipment covers an area of about 20 square meters, and the storage place for raw materials and finished paper is at least about 70 to 80 square meters.
3. How about the guarantee?
We provide 1-year quality guarantee. If the parts are damaged, we can provide them for free within one year.