Sanitary pads are the necessity for women. Do you want to start a small business of sanitary pad? How to start your own sanitary napkin business? In this article, you will learn more about the Low cost sanitary pad making machine.
Working case in South Africa
Project background
In South Africa, a large number of woven use cloth during menstruation. Because they can not afford the expensive pads available in the market. And in another way, they face health and hygiene problems. When Serage Gilbert learned that, here comes a project plan – start a small business in sanitary pad manufacturing.
Here is his inquiry: Good afternoon. My name is Serage Gilbert from South Africa. I need equipment for the production of sanitary pads. I like to start a small business. I need more details. Tell me the cost and characteristics? Please provide me with a quotation for the Low-Cost Sanitary Pad Making Machine. Thank you.
As soon as we got his messages, our sales manager Christina contacted him. According to Gilbert's requirements, Christina send all details of the sanitary napkin-making machine and packaging machine, such as technical parameters, machine photos, working videos, etc, As a result, Gilbert is very satisfied with the services. So just a few days after, he confirmed the order.
Now his factory start to manufacture sanitary pads. And he has set up some units in nearby villages where women can get sanitary pads at a cheap price.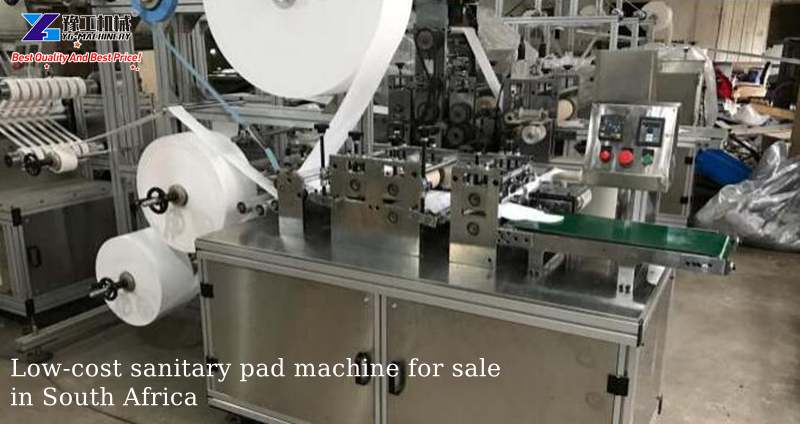 Low-Cost Sanitary Pads Making Machine for sale
YG Low cost sanitary napkin machine has the advantages such as being easy to install and operate, stable, low cost, etc. The equipment is equipped with a complete set of roller cutting devices, which is convenient for packaging and more user-friendly.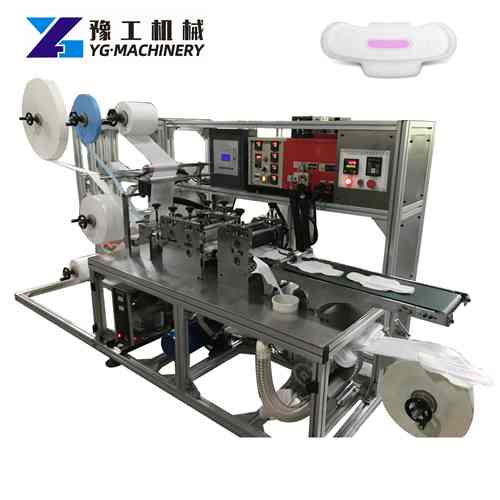 Low cost Sanitary Napkin Making Machine technical parameters
| | |
| --- | --- |
| Finished products size | 235cm (can be customized according to customer requirements) |
| Production speed | 50-80 pieces/min |
| Press die | Die Steel (Sakazaki, Japan) |
| Cutting die | Die steel (Sakazaki, Japan) |
| Electronic control | Frequency conversion speed regulation |
| Unwinding method | Synchronous unwinding |
| Discharge air shaft | 76MM air shaft (6) |
| Rated voltage | 380V |
| Rated frequency | 50Hz |
| Total power | 5.5kw |
| Equipment weight | 1500kg |
Working principle of the equipment
Breathable film → Negative ion chip → Water-absorbing hot air → Polymer washing cotton → PE breathable film
Gluing → Compounding → Embossing → Rolling cutting → Finished product output
Features
Four sets of feeding devices are used to discharge material at the same time and use roller cutting.
1 set of steel roll-to-steel roll ultrasonic indentation devices, and a set of roll cutter die. The indentation is clear and does not come off.
Suitable for PP nonwoven fabric, Hotair/Air through nonwoven, PE film, SAP paper, SS hydrophilic nonwoven, etc.
What are the raw materials used to make sanitary pads?
Typically, raw materials like air-laid paper or wood pulp, Tissue with SAP, PE films, glues, and release papers are used for making sanitary napkins.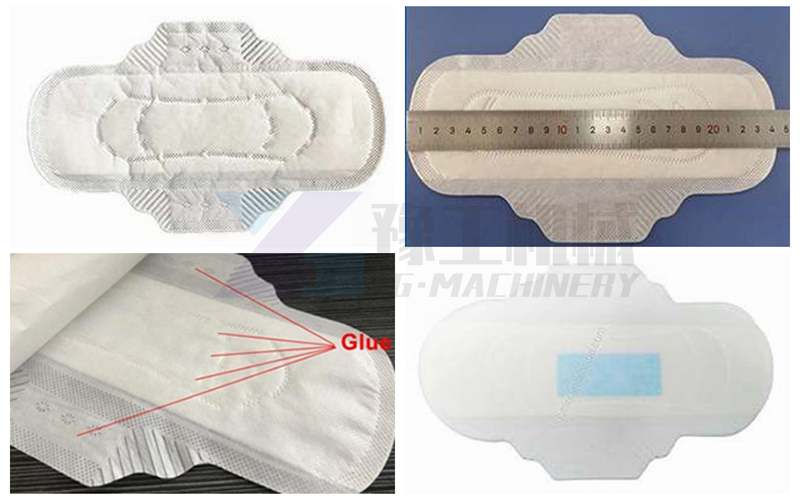 Machine details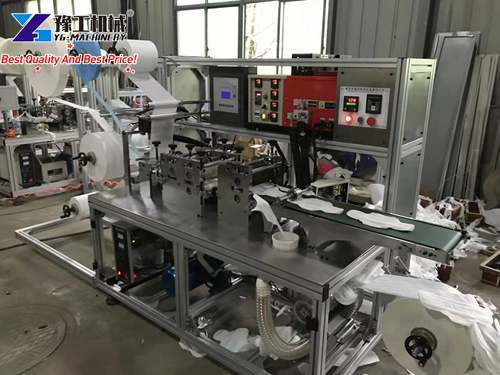 Voila. This is a low-cost sanitary napkin machine made by YG Machinery. Besides the low cost type, We have also a full automatic sanitary pad making machine, semi-automatic lady sanitary pads machine, etc. If you are looking for machines, do not hesitate to leave your messages here. We will reply to you as soon as possible.