YG Paper Machinery provides various types of diaper making machine, such as pull-up pants diaper manufacturing machines, elastic waistband diaper making machines, I type diaper production lines, T type baby diapers production lines, adult diapers making machines, etc. Contact us to get a business plan.
Baby / Adult Diaper Manufacturing Machine | Production Line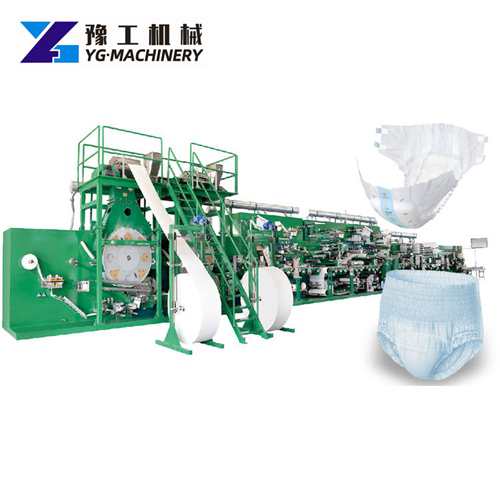 Certified Baby Diaper Making Machine Manufacturer & Supplier
Production Capacity: 250-800 pcs/min
Raw Material: Wood Pulp/PE Film/Nonwoven/SAP
Motor: Full servo motor
A full servo high-speed diaper production line is composed of a production machine, stacker, and packaging machine. The production speed can be up to 600 pieces/min.
Diaper making machine Parameters
Performances
| | |
| --- | --- |
| Capacity | 40-140 million pieces/year |
| Designed Speed | 600pcs/min |
| Stable Speed | 450-550pc/min (T shape) |
| Passing rate | ≥ 98% (Not include the glue applicator, Auto Splicing) |
Technical Parameter:
Power Supply
3 phase, 5 wires (380v, 50HZ)
Power Installed
250KW include Glue filter
Power Used
220KW
Electric wire
3×120mm2+1×50mm2+1×25mm2
Compressed Air Supply
0.6~0.8Mpa
Compressed Air Absorption
4000 Nl/min
Machine Size
32.0m× 7.0m× 3.5m(L× W× H )
Working Size
39m × 9.0 ×5.0m (L× W× H )
Machine Weight
about 50 Tons (whole production line)
Machine Color
White
Machine Direction
From Left to Right (can be designed to customer's demand)
Finish Product Size
XL、L、M、S、NB
( Based on Customer's requirement)
Length: 550mm max. / 350mm min.
Width: 350mm max. / 200mm min.
Features
The diaper production line is mainly divided into baby diaper making machine and adult diaper production line. And the production process is mainly divided into production line unit, stacking machine, and packing machine. The main function of the diaper production line is to spray different materials such as waterproof non-woven fabrics, composite cotton cores, polymer materials, and non-woven fabrics for diversion layers, and then compound them layer by layer. Then the products will go through arc cutting, longitudinal folding, final cutting, and three-folding. That is how are made finished diapers.
Read also:

How disposable diapers are made?
Diaper Raw Materials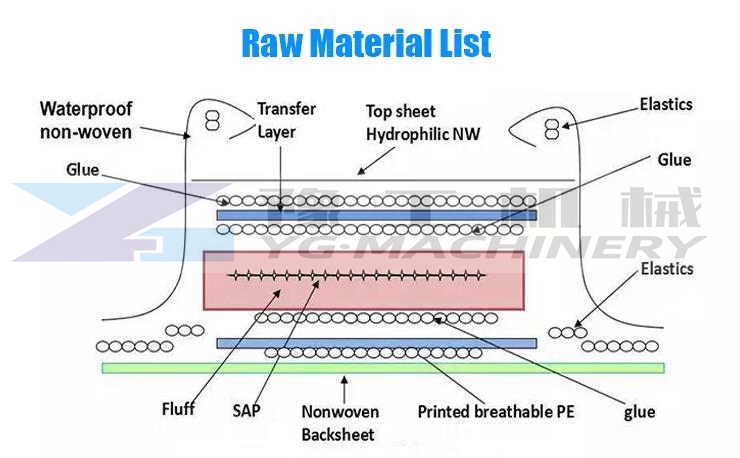 Baby Diaper stacker and packaging machine
The finished products enter the stacker for packaging through the over-stacking unit to obtain diaper products packaged in groups. Here is a working video of the equipment.
Working video
About Us-Henan yugong machinery co. ltd
Henan Yugong Machinery is a top and professional paper machinery manufacturer and supplier from China. Our hot sale products: paper cup machine, kraft paper bag making machine, sanitary pads machine, etc. If you have any questions about the full servo baby diaper production line, please leave your messages here.