Q: What are the ingredients used in the disposable degradable biodegradable tableware and their respective proportions?
A: Conventional lunch boxes generally follow the ratio of 70%-90% sugarcane fiber + 10%-30% bamboo pulp fiber. Different tableware will also adjust different fiber ratios according to the shape, angle, hardness, and stiffness of the product. Of course, plant fibers such as wheat straw, wheat straw, and reeds will also be added as needed. All are made of plant fibers without adding chemical materials such as PP and PET.
Q: How does the disposable pulp lunch box achieve the waterproof and oil-proof effect?
A: Pulp molded lunch boxes will add certain food-grade additives, general waterproofing agent: 1.0%-2.5%, and oil-repellent agent: 0.5%-0.8%, to achieve the effect of waterproofing and oil-proof. The test is generally 100°C water, 120°C oil. And the test time is 30 minutes. Special requirements can be made to extend the oil temperature test time.
Q: Do biodegradable disposable tableware products contain fluorine?
A: At present, most of the oil-repellent agents in vegetable fiber tableware on the market contain fluorine, and tableware that is waterproof but not oil-proof does not contain fluorine. If degradable tableware is required to be fluorine-free and waterproof and oil-proof, a better alternative is film coating. PBAT is currently the most widely used composite material in pulp-molded environmentally friendly tableware.
The film-coated product can keep better heat, reduce the temperature and dissipate heat through the pores of the molded product, and at the same time reduce the stickiness of food such as rice and dumplings, which can greatly reduce the use of water repellent and oil repellent.
Q: How long does it take for environmentally friendly pulp biodegradable tableware to completely degrade?
A: In the absence of any industrial decomposing machine, it takes about 45-90 days for pulp molded environmentally friendly tableware to completely decompose in a landfill in a natural state. No hazardous ingredients. No harm to terrestrial organisms, marine corals, or marine life. After degrading, 82% of the ingredients are organic matter, which can be used as fertilizer for land use. It is made from natural materials and returns to nature.
Q: Can disposable pulp tableware be microwaved and refrigerated? How much temperature can it reach?
A: The biodegradable pulp lunch box can be heated in the microwave and baked in an oven without harmful chemicals in the product. The maximum temperature can reach 220°C. It can support refrigerator freezing. And the freezing can reach minus 18°C.
Q: What type of product quality inspection standards does the pulp molded lunch box meet?
A: The biodegradable plant fiber lunch box complies with the national "pulp molded tableware" quality inspection standard, the US Food and Drug Administration (FDA), the German New Food and Dietary Goods Act (LFGB), and other international standardized inspection standards.
Q: Can biodegradable tableware be printed with logos?
A: Yes. You can print the logo on it. Most of the printed patterns are on the circumference, bottom, or top of lunch box products. However, products such as cups and bowls are mostly printed on the outside of the product. And they require curved surface printing. According to the printing equipment, there are screen printing, pad printing, and laser printing (code printing).
Printing products will increase product costs accordingly.
Q: Have the raw materials used in the white biodegradable lunch box been bleached? What bleaching agent is used?
A: Unbleached plant fiber pulp contains a small amount of lignin and colored impurities, so it is yellow and the fiber is relatively hard. The semi-bleached pulp contains a large amount of pentosan, and its color is light yellow, commonly known as the true color. The fibers of bleached pulp are white, pure, and soft in texture, but due to bleaching treatment, the fiber strength is lower than that of unbleached pulp.
Generally, we use hydrogen peroxide to bleach, not chlorine!
Pulp Molding Tableware Making Machine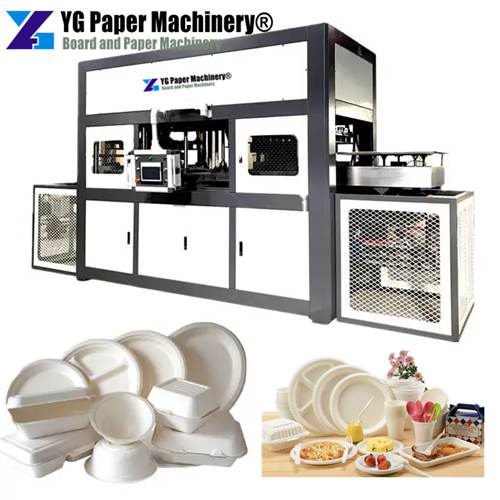 Biodegradable tableware pulp molding production line
Capacity: 500-1000 kg/day
Heating Type: heating in the mold by Electric
CE and ISO9001 certificate
24-hour online sales/after-sales services
Technical Parameters
| | |
| --- | --- |
| Product Name | Pulp paper plate/tableware Making Machine |
| Forming Machine | Vacuum suction and Reciprocating |
| Heating Type | 400 – 500 KG/Day, 700-1000KG/Day, etc |
| Raw Material | Bagasse pulp, bamboo pulp, wood pulp, straw pulp |
| Designed Capacity | 400 – 500 KG/Day, 700-1000KG/Day,ect |
| Control By | PLC + Touch screen |
| Automation | Fully Automatic |
Remarks: Pulp molding equipment is non-standard equipment, and we are able to provide customized solutions according to customers' specific requirements, such as customized design according to customers' production site requirements.
What is a Tableware pulp molding machine?
A Pulp Molding Biodegradable Tableware Making Machine is a machine that enables you to make kinds of paper tableware with biomass or pulp board. It can greatly reduce our reliance on harmful plastic products. It is the ideal machine for the countries that are carrying out plastic bans. This machine uses wood pulp, sugarcane pulp, straw pulp, etc. as raw materials.
Pulp molding tableware machines are mainly divided into semi-automatic tableware equipment and fully automatic tableware equipment. Semi-automatic equipment has a reciprocating forming machine in the middle and two hot press machines on both sides. The mechanical structure is simple and easy to operate; however, the degree of automation is rather low. The manual transfer of paper molding tableware products is needed.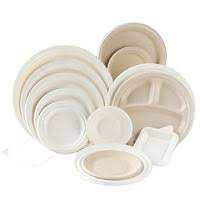 If you want to start a biodegradable tableware manufacturing business, please leave your messages below. Our sales manager will contact you as soon as possible.