Although people in some countries (such as India) do not use toilet paper (toilet paper) when they go to the toilet, for most decent modern people, toilet paper is an indispensable household item. Most of us can't imagine living without toilet paper. Especially during the Coronavirus. And over 75% of the toilet paper people use every day is made from native trees. In this article, I will introduce how is toilet tissue made and the process of making toilet paper. Read on!

What is toilet paper made of?
Toilet paper is made from virgin wood fibers or recycled paper pulp. Toilet paper is a kind of sanitary tissue. Remark: tissue paper and toilet paper are two different kinds of paper. It has good softness, absorbency, and cleanliness.
The history
Under the influence of the COVID-19 epidemic, there has been a wave of panic about buying toilet paper. This panic is reasonable. If we know how our ancestors solved the problem of wiping their buttocks, we will surely be very grateful and cherished today's soft, comfortable and clean toilet paper.
About a million years ago, Humans first wiped their butts with stones.
Before paper came out, the cleaning materials people used after going to the toilet included water, cloth, leaves, corn on the cob, and bamboo chips.
The modern crepe toilet paper was born in America.
The last big change to toilet paper came in the 1990s when the Brits first introduced non-woven wipes to wipe their buttocks.
How to judge the quality of sanitary paper
It feels soft and smooth.
When pulling, you can feel the tenacity, and it is not easy to tear.
When it is dry, it will not form powder when rubbed vigorously.
Whiteness is naturally white, very pleasing to the eye, not white, very clean and dazzling.
The packaging indicates that the raw material is [virgin wood pulp] or [raw wood pulp], and the content is 100%.
Note that some inferior paper will add bagasse pulp to the material, or even use all bagasse pulp. This pulp will also make the paper very tough and not easy to break, but it will feel much rougher.
Toilet paper making machine
As there is a big demand for toilet paper every day, the toilet paper manufacturing business is absolutely profitable. YG High-Quality Toilet Paper Roll Production Line is composed of a papermaking machine, paper rewinder and cutter machine, and toilet paper packaging machine.
Paper Rewinder Technical Parameters
Base paper width
≤2100mm
Finished product diameter
Φ60~150mm (adjustable elasticity)
The inner diameter of the finished paper core
Φ 32~50mm
Base paper diameter
Φ1100mm
The inner diameter of the base paper core
3″
Punching pitch (please specify)
4 knives, mechanical adjustment 90~180mm
Rewinding speed
0-200 m/min
Punching method
pneumatic separation
Unwinder
1-3 layers
Dimensions (L×W×H)
6500×3100×2600 (mm)
Machine weight
3500kg
Total power
4kW
Pneumatic system
3 hp air compressors, minimum pressure 5kg/cm2 Pa (customer provided)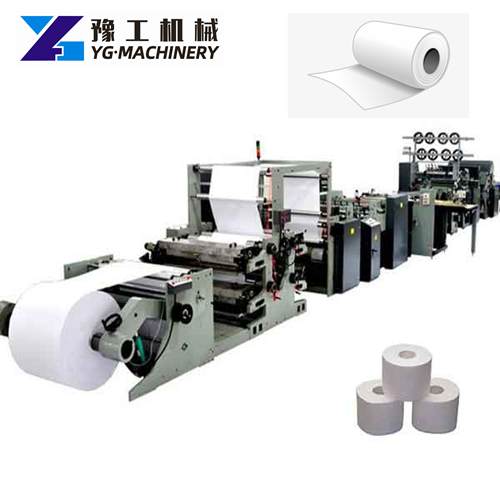 Top Toilet Paper Brands
Charmin Ultra Strong.
Quilted Northern Ultra Plush.
Cottonelle Ultra ComfortCare.
Great Value Ultra Strong (Walmart)
365 Everyday Value 100% Recycled (Whole Foods)
Angel Soft Toilet Paper.
Up & Up Soft & Strong.
Scott 1000.
Conclusion
This is the history, and manufacturing process of toilet paper. If you want to start the toilet paper manufacturing business and need to buy a tissue paper making machine, please contact us to get a free quote, YG Machinery is a professional and reliable paper machinery manufacturer and supplier.