How to pack A4/A3 Copy paper? The A4 paper packing machine is a fully automatic reams paper packing machine. It can be matched with a4 a3 Paper Roll to Sheet Cutting machine to build up an A4 paper production line.
A4/A3 Copy Paper Packing Machine
YG A4 copy paper packaging machine is suitable for packaging A4 copy paper (210×297mm). More models such as A3 (297mm x 420mm), A5 (210mm x149mm), legal size (216mm x 356mm), and letter size (216mm x 279mm) can be customized. Contact us to get a free quote now.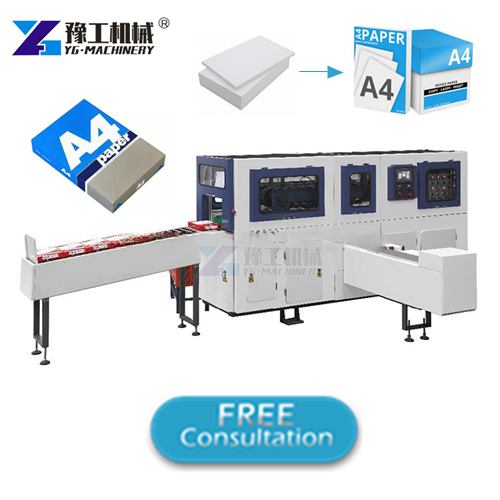 Parameters
| | |
| --- | --- |
| Model | YG-A4-10 |
| Wrapping Paper Feed Method | Sheet Feed |
| Wrapper Size | 210x297mm |
| Ream packing speed | 18-20 reams/minute (Affected by paper quality, worker experience, etc.) |
| Material height | 30-60mm |
| Wrapping paper material | Coated paper (flat, no curve) |
| Wrapper Weight | 90-120gsm |
| Wrapper size | 550-560*386mm |
| Main Power | 220V AC/22V DC |
| Total Power | 5.5kw |
| Glue machine power | 2.25kw |
| Compressed air pressure | 0.6-0.8 Mpa |
| Dimensions (LxWxH) | 3.9×4.5×1.45m |
| Weight | 2mt |
Features
Adopt a multi-function digital display stepless speed regulation, and PLC control.
Equipped with a touch screen to realize the man-machine interface.
Automatically cross-cut the paper roll.
Ordinary color printing paper, high-grade color printing paper, and coated paper can be used as outer packaging paper.
Equipped with an advanced automatic glue spraying system.
Reasonable structure, higher efficiency, more convenient operation, and stronger sealing ability.
The performance reaches the international standard.
A4 Paper Shrink Wrapping Packing Machine
Some A4 paper factory, they need to wrap the A4 copy paper with the film. The Film wrap package machine for A4 paper can be divided into PE film shrink packing machine and POE film shrink wrapping machine. The packaged items can be sealed, moisture-proof, and pollution-proof. So, this Heat shrinking machine is widely used in the packaging of glass bottles, styrofoam, cartons, toys, electronics, electrical appliances, stationery, books, records, hardware tools, daily necessities, medicines, cosmetics, beverages, fruits, souvenir labels, etc. Click here to request a free quote.
Features:
It adopts quartz infrared tube/iron tube heating, electronic voltage regulation and temperature control, and integration of transmission without variable speed.
This series has advanced design and complete functions, stable performance, and the packaged products are sealed, moisture-proof, and impact-resistant, and are suitable for intimate and stable packaging of multiple items.
The equipment is compact, with short warm-up time and power saving;
Shrinkage does not affect the quality of the packaged items and can shrink the package perfectly;
Suitable for packing regular or irregular items, the structure is simple and easy to operate, and it is convenient to clean.
Other Machines for A4 Paper
About Us
YG Paper Machinery is one of the top paper making machine and paper product manufacturing machine manufacturers in China, Our hot sale machines are paper cup machine, thermal paper slitting machine, kraft paper bag making machine. etc. Are you looking for paper making machine? YG provides high quality papermaking machines and paper products making machines for more than 17 years. Factory Price. 24/7 online services. Leave your requirements here and we will contact you as soon as possible for services.