Magnus from Libya wanted to start a napkin paper business in his local. So he searched paper napkin machine. Magnus consulted with many manufacturers. Among the offers from these manufacturers, Magnus chose YG Paper Machinery.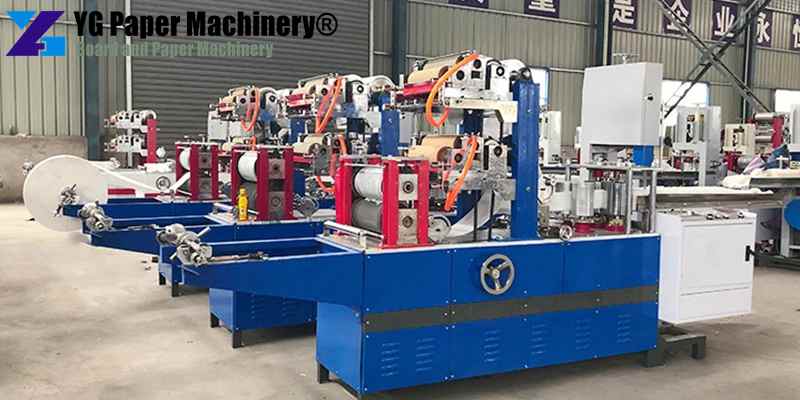 Paper Napkin Folding Machine for Sale
Product introduction: A napkin paper machine is a machine used for restaurant paper. The main thing is to emboss, fold, and cut the cut paper into square or long paper napkins. The whole process is completed by a napkin machine.
Product use: Cut and fold the dish paper to make it a rectangular and square napkin that is common in daily life.
Manpower required: one person can complete the entire operation
Required space: The equipment covers an area of about 20 square meters, and the storage place for raw materials and finished paper is at least about 70 to 80 square meters.
Materials used: paper roll.
Napkin Paper Making Machine Parameters
| | |
| --- | --- |
| Machine Model | YG-220 |
| Unfolded Size | 220mm*220mm |
| Folded Size | 110mm*110mm |
| Printing Unit | 1-2 colors as per requirement |
| Embossing Unit | Full or border pattern as per requirement |
| Raw Paper Size | 1200mm |
| Raw Paper Core Inner Diameter | 80mm(other sizes are available) |
| Interfolding style | 1/4 fold 1/6 fold 1/8 fold |
| Speed | 150m/min |
| Installed Power | 4.2 KW (380V 50Hz) |
| Air Pressure Required | Provide by buyer |
| Transmission | Timing belts |
| Controlling System | Frequency Drive |
| Machine Weight | 1000kg |
| Space Required | 3.2-4.2X1X1.8m |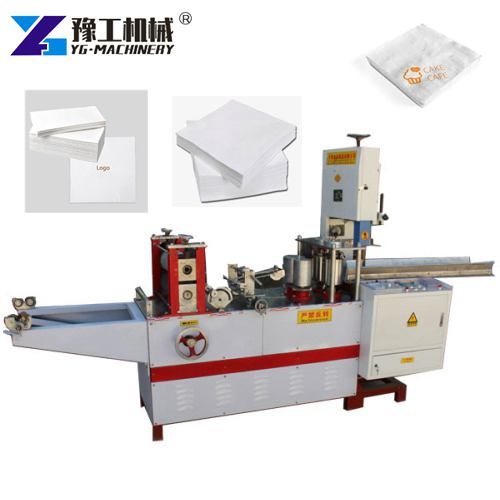 Read also: PE Gloves Making Machine for Sale
Features
Convenient packaging: Automatic counting, whole column, easy to pack.
Uniform size: The positioning of the folding device is reliable, and the forming size is uniform
Adapt to requirements: Models with various specifications can be manufactured according to customer requirements
Save time and effort: Embossed on steel against a wool roll, the pattern is clearly defined. (Steel-to-steel embossing rollers can be prepared according to user requirements, graphics can also be designed according to the buyer, and words or factory logos can be added)
Are you looking for a good napkin paper folding machine? Please leave your messages and our sales manager will contact you.