YG-3800 Corrugated Paper Machine was officially put into operation in Egypt. Congratulations!
In February 2021, we got an email from Ayman from Egypt. Aymen and his team would like to invest in a paper mill factory in Egypt to produce high-strength corrugated paper and they need to know the cost of the machines. Jimmy, our sales manager, replied to Aymen. And he asked about the requirements of the machine, like speed, raw materials, factory area, etc. Then our engineer Albert made a complete plan for Aymen according to the area of the factory. Aymen has contacted many suppliers to quote. We, YG Paper Machinery, because of our professional services, got this order from Aymen.
Contact us to get a plan for your paper making business plan and corrugated paper machine price here.
Production & Installation
After the production of the paper machine is completed, we pre-install it in the factory to ensure that every part, even every screw, can be installed in place after it is sent to the customer's factory.
After the goods are delivered to the customer's factory, we will send installation engineers overseas to guide the installation and production debugging of the machine and help the customer to train the operating staff. The customer's satisfaction with our products and services is a real recognition of YG Paper Machinery.
The following is a picture of the customer's acceptance of the goods at the factory after the installation is completed: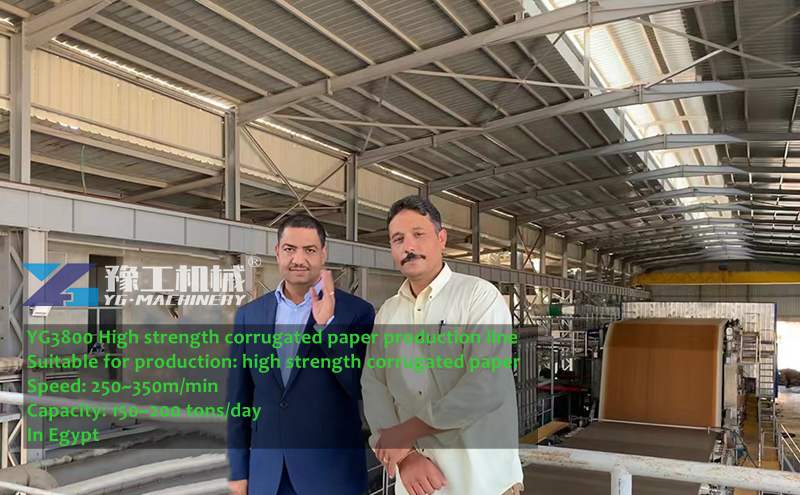 Corrugated Paper Machine Descriptions
Suitable for production: high-strength corrugated paper
Gram weight: 75~150GSM
Capacity: 150~200 tons/day
Wire section: One air cushion headbox, Wire section length 19.5 meters
Press section: one set of vacuum presses (850x4400x5250), two sets of large roller diameter blind hole presses (1350x4400x5250)
Drying section: 36 dryers (1800x4400x5250)
Sizing Department One sizing machine (950x4250x5250)
Auxiliary machine: one scanner, one horizontal reel, one frame rewinder
Turbofan, complete control system ABB, and all pulping equipment are
Speed: 250~350m/min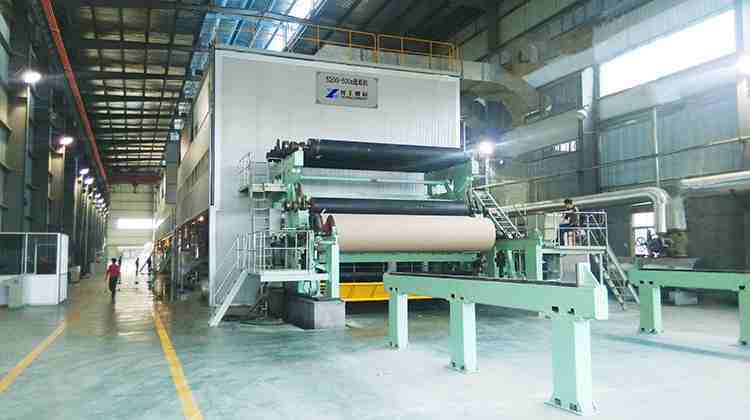 Read also: Ways to reduce raw materials loss – Corrugated Cardboard Production Line Transformation
YG Paper Machinery – Paper and pulp manufacturing machine factory
According to different sources of upstream raw materials, papermaking enterprises can be divided into two categories: wood pulp and waste paper. The main products of YG Paper Machiner are Fourdrinier Multi-Cylinder Corrugated Paper Machine, Cultural Paper Machine, Special Paper Machine, Crescent Tissue Paper Machine, etc. Besides the paper making machine, we provides also paper slitting machine, paper rewinder, paper products manufacuring machine, etc. Please contact us to get the paper manufacturing machine price.