A cardboard laser cutter is a cutting tool that uses a laser beam to cut and engrave cardboard. This tool is commonly used in the fields of art, design, and crafting, as it allows for precise cuts and intricate designs to be created in cardboard. With the advancement of technology, these cutting tools have become increasingly accessible to a wider audience and are now available for home and small-scale use. Request a free quote here.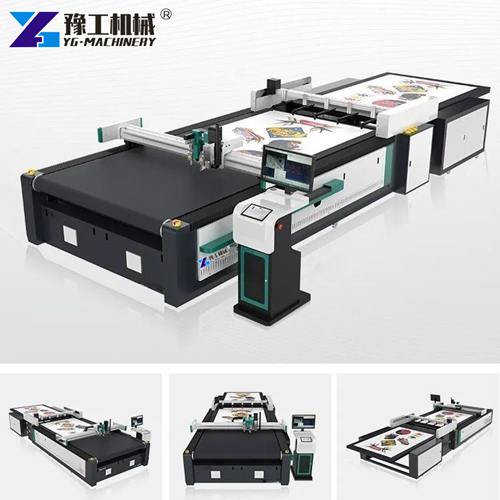 From Flat to Fabulous: Transforming Cardboard with a Laser Cutter
The process of using a cardboard laser cutter involves first designing a pattern or image in a computer program, such as Adobe Illustrator or CorelDRAW. The design is then transferred to the laser cutter, where the laser beam is directed at the cardboard, cutting through it based on the design. The laser cutter can also be used to engrave designs into the cardboard, giving the finished product a unique, personal touch.

Read Also: Corrugated cardboard Paper Making Machine Production Line
Technical Parameters of Cardboard box cutting machine
| | |
| --- | --- |
| Model | 1325/1625/2030 optional |
| Working area | 1300*2500mm/1600*2500mm/2000*3000mm |
| Rated power | 11KW |
| Fixed mode | Flate plate table /auto feeding plate optional |
| Multifunctional heads optional | Vibration knife / Circular knife / Punching knife / Oblique knife / Pen / Punch roller / Milling knife / Projector and camera optional |
| Safety device | Using infrared sensors, responsive, safe, and reliable. |
| Translational velocity | 800-1200mm/s |
| Cutting speed | 200-800mm/s(according to different cutting materials) |
| Cutting thickness | ≤22mm(according to different cutting materials) |
| Cutting material | Leather, all kinds of clothing flexible material, Sponge leather, PVC, soft glass, Silicon, rubber |
| Related accuracy | ≤0.1mm |
| Capacity | 2GB |
| Transmission system | imported(Digital servo motor, linear guide, synchronous belt, ball screw) |
| Instruction system | HP-GL compatible format |
| Control system | TC6828(AOL custom made) |
| Voltage | 380V±10% |
| Other configuration | Germany imported conveyor belt, vacuum table, Taiwan Hiwin rail, vacuum pump |
Cutting Material Display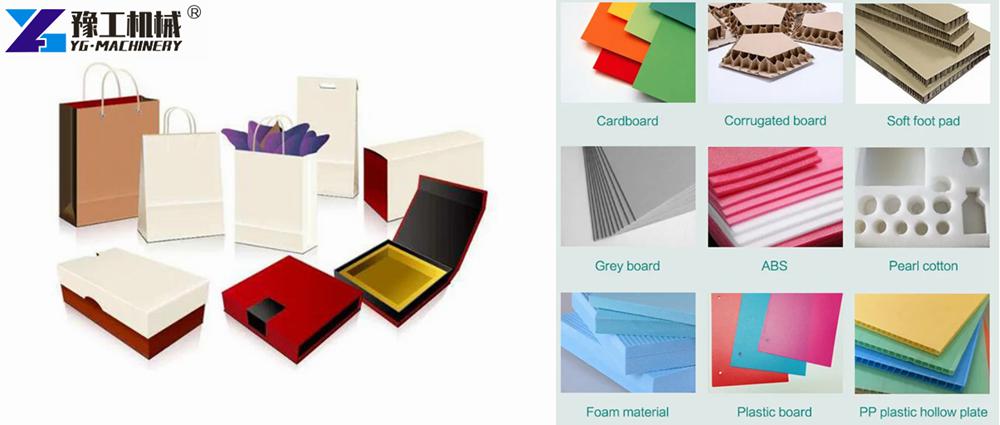 Advantages
One of the benefits of using a cardboard laser cutting machine is its ability to produce precise cuts. That is crucial for projects that require precise measurements and angles. Additionally, the laser cutter can cut through a variety of materials. Including cardboard, paper, and even some types of plastic, making it a versatile tool for artists and designers.
Another advantage of using a cnc cardboard cutter is the ability to create intricate designs and patterns. This would be difficult to achieve with traditional cutting tools. The laser cutter's precision allows for fine details to be added to the design, resulting in a more polished and professional-looking finished product. This makes it ideal for use in the creation of custom jewelry, decorative items, and other craft projects.
READ ALSO: Carton Box Making Machine For Sale | Hot Selling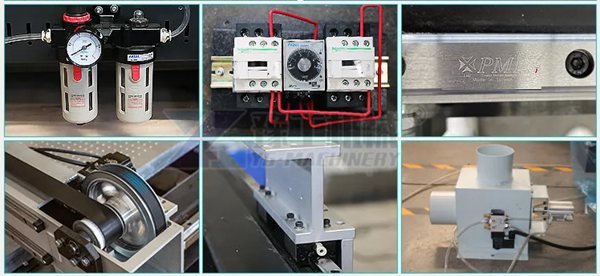 It is important to note that cardboard laser cutters can be a useful tool for artists and designers. They should be used with caution. Lasers are powerful tools that can cause injury if used improperly. So it is important to follow all safety guidelines and precautions when using a cardboard laser cutter. Additionally, the use of these tools may also require specialized training and knowledge. So it is recommended to seek out educational resources before attempting to use a cardboard laser cutter on your own.
YG Cardboard Laser Cutter Price
In conclusion, YG cardboard laser cutter is a powerful tool. It can be used to create precise cuts and intricate designs in cardboard and other materials. Its accessibility and versatility make it a popular choice for artists, designers, and crafters. But it is important to approach its use with caution and seek out proper training and resources. Whether you are a seasoned professional or just starting out, YG Cardboard Laser Cutter is a valuable addition to any creative toolkit. Contact us to get the machine's price. WhatsApp/Phone 008613598866720.