Belarus Tissue Company has recently invested in a tissue paper machine to expand its production line. They bought the production line from YG Paper Machinery. Congratulations!
Working Case | Tissue Paper Machine in Belarus
The machine is a crescent former machine. It produces high-quality tissue paper with a basis weight range of 12-45 gsm.
The machine is equipped with a headbox that distributes the pulp slurry evenly onto a forming fabric, where the water is drained away and the fibers are formed into a wet web. The wet web is then transferred to a press section, where it is pressed to remove excess water and increase its dryness. The pressed web is then transferred to the Yankee dryer, a large steam-heated drum that dries the paper and gives it a smooth finish.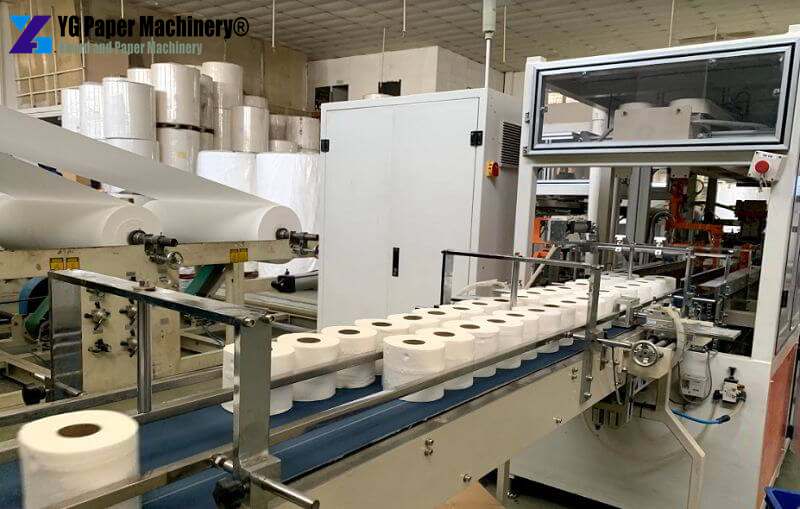 After drying, the paper is creped off the Yankee dryer with a doctor blade, creating a soft, fluffy texture that is ideal for use as tissue paper. The finished paper is then wound onto jumbo rolls, which can be used for further processing or converted into smaller rolls for retail sale.
The machine has a production capacity of 50 tons per day. It is operated by a team of skilled technicians who ensure its smooth operation and maintenance. With the new tissue paper machine, Belarus Tissue Company has been able to expand its product line. And also this increases its market share in the tissue paper industry.
Tissue Paper Making Machine for sale
YG Tissue Paper Making Machine is a fully automatic paper making machine. The whole production line is composed of a paper making machine, paper rewinder machine, paper slitting machine, and paper packing machine. If you want to buy the tissue paper making business, please leave your requirements and email. We will contact you as soon as possible.