Antonio from Mexico noticed a potential business opportunity in the local paper bag market. So he made a plan to open a paper bag manufacturing unit. With no doubt, Antonio needs to buy a paper bag machine. So he searched "Paper bag making machine Low price" on Google and checked our website.
I am interested in your v bottom paper bag making machine(small or medium size). Please send information.

Antonio
Our sales manager Amanda sent him a detailed quotation with shipping costs according to his requirements. Antonio replied, 'Your price is competitive and quality is good. I will make payment within 2 days.' Now Antonio has received his machine. He sends us pictures of his factory with positive feedback.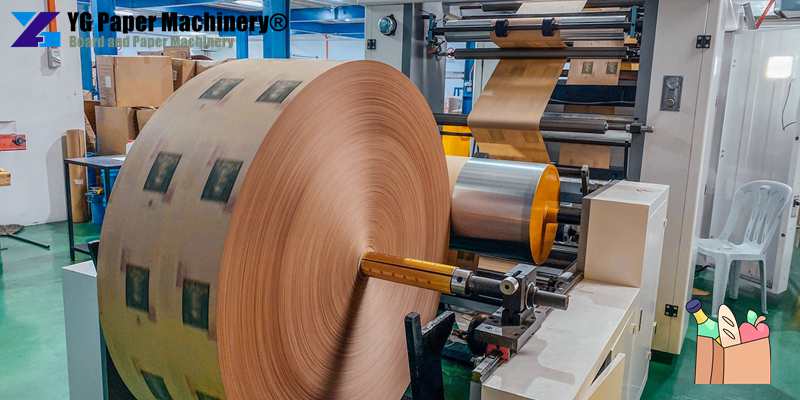 Below is the machine information for a low-cost paper bag making machine. If you are interested in this machine, please leave your inquiry. Our sales manager will contact you as soon as possible.
Paper bag making machine low price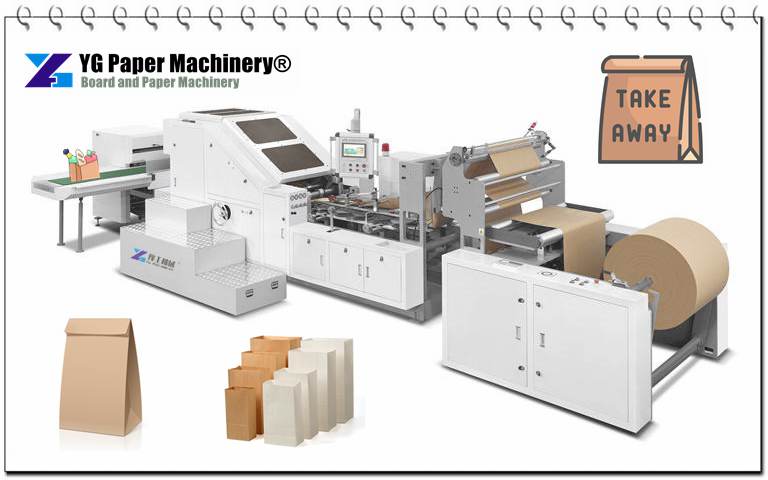 Technical Parameters
| | |
| --- | --- |
| Model | YG-SFD220 |
| Cutting Length | 190-330mm |
| Paper Bag Width | 220mm |
| Bottom width | 50-105mm |
| Paper bag thickness | 50-130g/m2 |
| Mechanical speed | 30-260pcs/min |
| Paper bag speed | 30-200pcs/min |
| Paper roll width | 280-640mm |
| Paper diameter | 1300mm |
| Inner diameter of paper | 76mm |
| Total power | 380V 3phase 41ine11.5kw |
| The whole machine pressure | 0.5MPa-0.8MPa |
| Total Weight | 6000kg |
| Overall size | 8500*3500*2200mm |
Details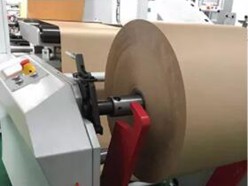 Feeder: This part feeds the paper roll or sheet into the machine.
Printer for printing the logo, design, or text on the paper bag.
Cutter: Cut the paper into the desired size and shape.
Folder: This part folds the paper into the bag form.
Gluer: Apply glue to the edges of the paper bag to seal it.
Handle maker(optional): This part makes and attaches the handles to the paper bag.
Collector: This part collects the finished paper bags and stacks them.
BEST Paper Bag Making Machine
There are many paper bag machines available in the market. Which brand is best? How do I choose a supplier for my paper bag business?
YG Paper bag making machine is one of the best paper bag machines. We provide semi automatic paper bag making machine, automatic square bottom kraft paper bag machine, paper bag making machine low price, etc.
What type of paper bags do you want to produce and sell? You can choose from different niches, such as grocery bags, shopping bags, gift bags, food bags, etc. In addition, you should also consider the size, shape, color, design, and handle of your paper bags.
Leave here your inquiry and we will send you as soon as possible a free quote.
We have more than 18 years of experience in this field. Machine quality assurance. We have a good reputation in the market and will be able to handle any issues or complaints professionally. Factory price. Delivery on time. 7/24 online services. 1-year warranty. We can arrange for professional engineers to assist you in installation and commissioning.
Payback period of a bag machine
How long you will get payback with the paper bag machine? On average, your payback period would be about 1-2 months.
If you have any more questions, please feel free to ask me.😊