YG-1100D A4 sheet cutting machine shipped to Kyrgyzstan.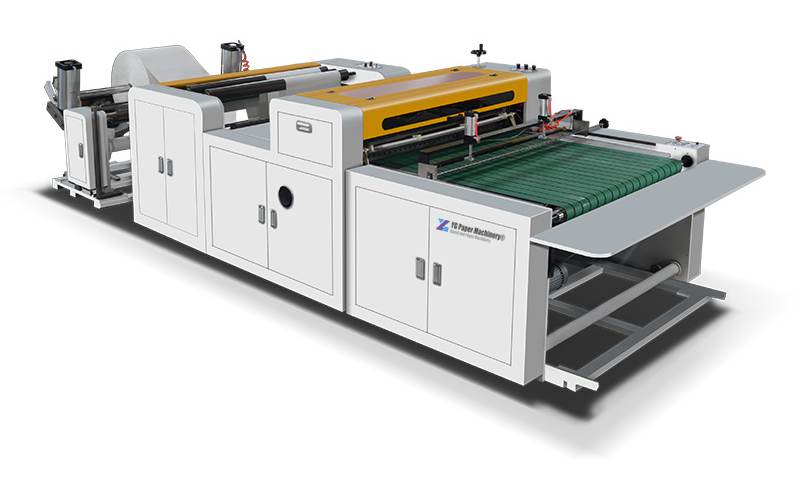 Azamat Isakov owns a small printing company in Bishkek, He was struggling to keep up with demand. They were manually cutting paper for their printing jobs, which was taking a lot of time and effort. So, they decided to invest in an A4 paper cutting machine, and it has been a lifesaver.
Overall, YG-1100D A4 paper size cutting machine has been a great investment for the small printing company in Bishkek. It has helped them to improve their productivity, save time and effort, and increase their customer satisfaction.
Are you looking for an A4 paper slitting machine? Please contact us.
Automatic A4 Sheet Cutting Machine
A fully automatic high-precision cross-cutting machine (A4 paper cutting machine) is suitable for cutting roll packaging materials such as various office papers, high-gloss photo papers, and paper-plastic composites.
Technical Parameters
| | |
| --- | --- |
| Model | YG-1100D |
| Paper roll material range | 60g-500g |
| Cutting width | ≤ 1400mm |
| Accuracy | ± 0.2mm |
| Cross-cutting length | 100mm-2540mm (the cutting length depends on the weight of the paper) |
| Mechanical linear speed | 70M/min (depending on the length of the material cut) |
| Cutting frequency | 10-160 times/min |
| Maximum unwinding diameter | ≤ 1400mm) |
| Total power supply | approximately 8.5kw/380V/50Hz |
| Machine weight | approximately 2600kg |
| Dimension | 5000 mm × 2000 mm ×1300mm |
Features
This machine adopts PLC touchscreen control, servo motor controls fixed-length cutting.
The transmission system adopts centralized control such as pneumatic and photoelectric sensors. This machine integrates light, electricity and gas, and has the advantages of easy operation, high cutting precision, mechanical stability and low noise.
Motor frequency conversion speed regulation, automatic counting, alarm stop, magnetic powder tension control. It can be cut vertically in multiple sections, and the waste edge is automatically removed by the fan.
Multiple rolls can be cut horizontally and vertically at the same time.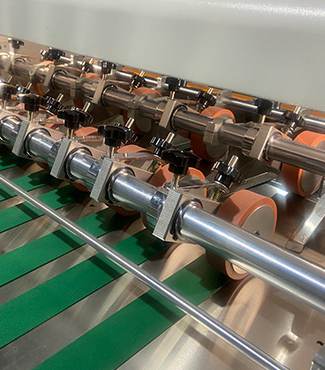 What is the A4 paper cutting machine price?
We have semi automatic A4 size pape sheet cutting machine, fully automatic a4 paper slitting machine, a4 paper cutting and packing machine, etc. Please leave here which model you prefer and our sales manager will send you a detailed quote.
---
You may also like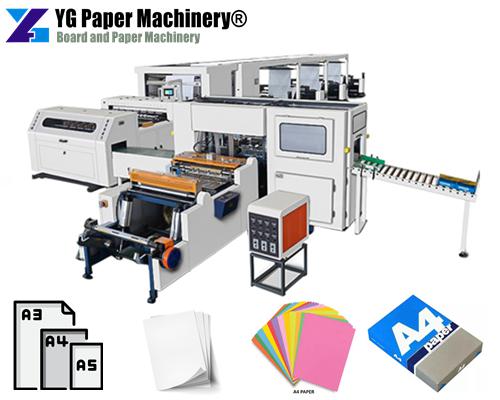 A4 paper cutting and packing machine
Besides the A4 size paper cutting machine, we have also A4 paper cutting and packing machine for sale. If you are interested in the A4 paper machine, please leave your messages below.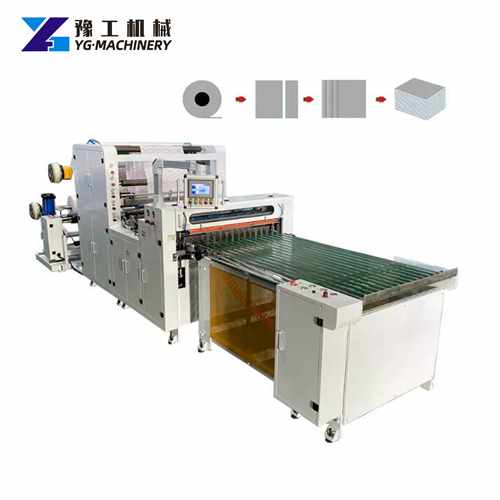 Sandwich Paper Cutting Machine
It is used to cut paper rolls into sheets. It is typically used in the food industry to cut hamburger paper, but it can also be used to cut other types of paper rolls, such as newsprint and cardboard.
Installation and operation
We provide:
Comprehensive installation teaching video, installation manual, tension control guide;
On-site installation and operation guidance by engineers;
Engineers on-site train customer employees, and guide and train the performance and safe operation of the machine.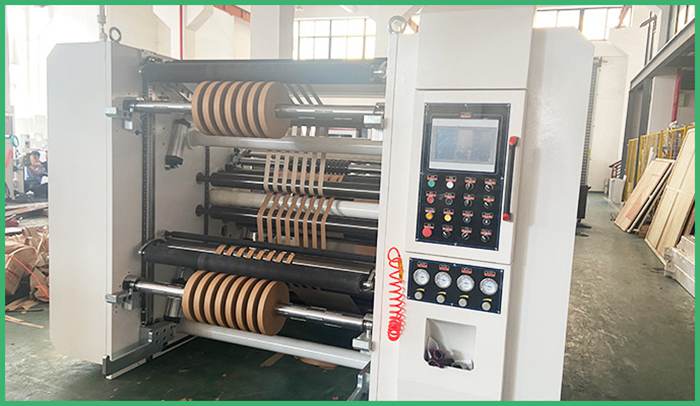 Customer Feedback
"It is very accurate, with a cutting tolerance of +/- 0.2 mm. This means that I can be sure that my papers will be cut to the exact size I need them to be. Very efficient. The machine can cut through paper quickly and easily. Finally, I appreciate the one-year warranty that comes with this machine. It gives me peace of mind in case something goes wrong."

— Azamat Isakov, General Manager
---
"YG provides excellent services. The machine is very durable, made from high-quality materials that can withstand heavy use. I have used it for many years."

— Sharon Elidan, Purchasing Manager
---
"I love how easy this machine is to use. The controls are simple and intuitive, so I can get started cutting paper right away."

— Ms. Julian Smith, Project Purchase Manager
Customer Visiting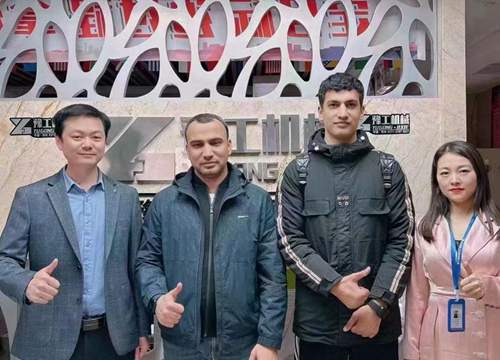 YG Paper Machinery is a paper machine manufacturer from China. We provide kinds of paper machine, paper cup machine, paper bag machine, paper slitting machine, paper roll rewinder cutter machine, etc. Our machines have been exported to many countries and regions. For example, Australia, Turkey, Saudi Arabia, UAE, Oman, Yemen, Russia, Kyrgyzstan, Zimbabwe, Nigeria,