Choosing a paper cup lid making machine can be a challenging task. How to choose a paper cup lid making machine? Here are a few factors to consider when selecting a machine:
Production capacity: The production capacity of the machine should be suitable for your needs. You should consider the number of paper cup lids you need to produce in a given time period and select a machine that can meet your production goals.
Machine specifications: You should look for a machine that meets your specifications in terms of material quality, size, shape, and design of the paper cup lids you want to produce.
Automation level: Depending on your budget and production goals, you can choose a fully automatic, semi-automatic or manual machine. Fully automatic machines are faster and more efficient but can be more expensive.
Machine durability: You should select a machine that is built to last and made of high-quality materials. You don't want to spend money on a machine that will need frequent repairs or replacement.
Cost: You should consider the cost of the machine and ensure that it is within your budget. Additionally, consider the maintenance and operating costs associated with the machine.
Brand and supplier reputation: Look for a reputable brand and supplier that has a proven track record of producing high-quality machines and providing excellent after-sales support.
I hope these factors help you in selecting the right paper cup lid making machine for your needs.
After you know how to choose a paper cup lid making machine, here you can learn more about our high-quality paper cup lid making machine.
YG Paper Cup Lid Making Machine For Sale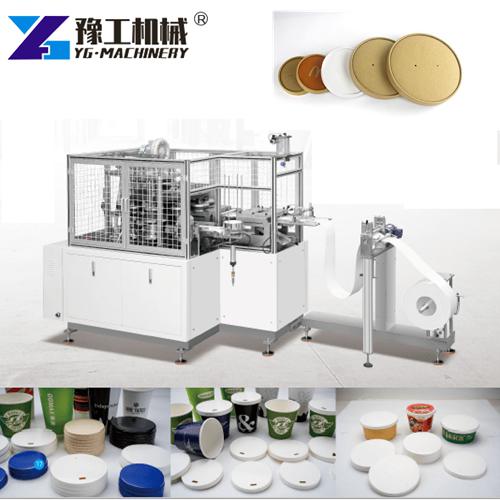 LID Height: 14-20mm
Paper Cover Diameter: 65-130mm
Capacity: 45-55pcs/min
Power: 6.5-10kw
Technical parameters of Paper Lid Forming Machine
| | |
| --- | --- |
| Model | YG-70 Automatic Paper Cup/Bowl Cover Making Machine |
| LID Height | 14-20mm |
| Paper Cover Diameter | 65-130mm |
| Paper weight | 280-450 gsm |
| Productivity | 45-55 pcs/min |
| Power | 6.5-10kw |
| Power Source | 220V/380V 50Hz |
| Machine weight | 1200kg |
| Working Air Source | 0.4MPa, 0.12m3/min |
If you want to buy a paper lid forming machine, please contact us. WhatsApp/Phone 008613598866720.