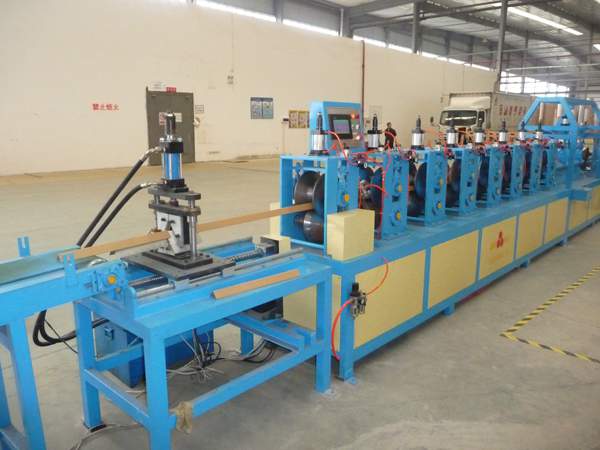 With the development of the packaging and transportation industry, carton packaging ranks first among packaging materials due to its special performance advantages. However, people have also discovered its shortcomings, such as poor load-bearing capacity and easy deformation of carton packaging. Faced with the problems encountered in development, the emergence of paper corner guards made up for the shortcomings of carton packaging. In this article, i will mainly introduce the paper edge protector machine, process flow, physical properties and applications of paper corner protectors.
Paper Edge Protector Machine
Paper corner protector making machine refers to a machine that specializes in the production of paper corner protectors. It is generally composed of paper guide, gluing, forming, cutting, automatic stacking and other devices and some accessories, and can complete all processes of paper corner protector manufacturing.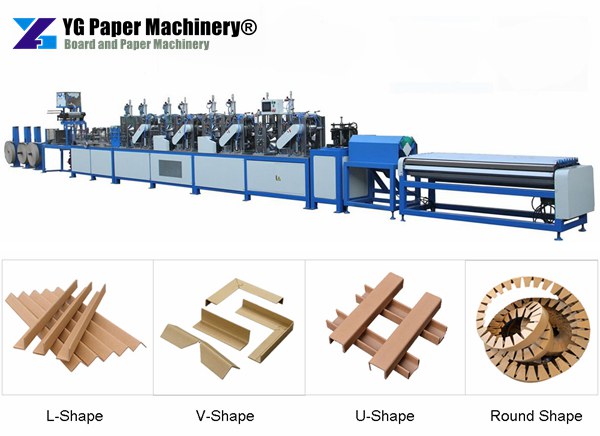 YG Paper Machinery offers the machine that can produce V-shaped, notch, U-shaped, flat, round paper corner protectors, paper pallets, paper slip sheets.
Parameters of YG-S640 Paper Edge Protector Machine
Installation dimensions
(Length x Width x Height) 38m x 1.5m x 2m
(Pneumatic linear paper loading rack, if the paper loading rack needs to be turned, the length is 28 meters and the width is 3 meters)
Function
Produce V-shaped + notch + U-shaped + flat paper corner protectors
Production specifications
V-shaped paper corner protector: 25*25-100*100mm, thickness 2-10mm
U-shaped paper corner protectors: height on both sides: 20-60mm, width 20-120mm, thickness 2-5mm
Flat paper corner protector: width 40-120mm, thickness 2-10mm
Notched paper corner protector: 25*25 – 75*75mm, thickness 2-5mm
Cut off length
50mm – any length
Maximum speed
0-40 meters/minute (V type)
0-35 meters/minute (flat plate, punched)
0-30m/min (U-shaped)
0-30m/min (U-shaped)
Cutting accuracy
±0.5mm
Power
18KW
Voltage
380V/60HZ (optional)
Control system
Servo control system, humanized visual human-machine interface
Forming wheels
12 sets of forming wheels (8 sets of V-shaped wheels, 4 sets of flat integrated wheels)
Cutting system
The latest dedicated punching table for multifunctional machines
Paper loading rack
Pneumatic paper loading rack (optional steering paper loading rack)
Standard configuration
Automatic stacking*1; throwing*1; servo cutting table*1; main machine*1; edge wrapping table*1; glue laminator*1; paper loading rack*12 sets
Features
Thickened and reinforced square tube steel frame, international standard forming wheels that are hardened and heat treated; 10mm ultra-thick machine panel;
All important components are chrome-plated; hardened heat-treated V-shaped formed wheel set + U-shaped flat plate formed wheel set, the latest servo U-shaped/flat/V-shaped interchangeable cutting table, the latest punching cutting table, quiet operation, high cutting accuracy, long life.
As there are many types of paper corner protectors, please tell the paper corner protector that you want to produce. We will send you a free quote according to your requirements.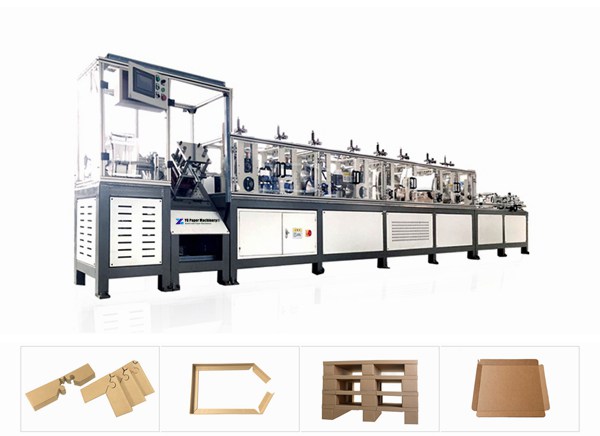 How is made paper corner protectors?
Here is the production process of the Paper corner protector:
Independent paper loading rack.
Paper hanging part: Determine the number of paper loading racks according to the number of layers of paper required by the customer.
There are a variety of gluing methods to choose from, such as single-sided gluing, double-sided gluing, spray-type gluing, etc. Generally, transfer type automatic gluing is used, and the thickness of the gluing can be adjusted at will by a scraper.
Hemming adjustment part: Multiple sets of rollers adjust each layer of paper. When changing the specifications of the paper corner protectors, it can be quickly, conveniently and accurately adjusted. The tissue paper is automatically hemmed. You can choose half-wrapped or full-wrapped hemming form, the produced products have beautiful appearance.
Forming part: The pressing wheel mold performs high-strength rolling and forming of the paper.
Transmission part: It is driven by a high-power AC motor, equipped with a frequency converter to control the motor operation. The pressure wheel and the motor are connected by a reducer and a transmission shaft, and each pressure wheel rotates synchronously to ensure smooth operation.
The paper corner cutting machine equipped on the machine is pneumatic and uses high-hardness sharp steel blades for cutting. The cutting is accurate and stable, and the cutting surface is smooth and beautiful.
Data processing: The PLC central processing system is used to control the host movement. The turret-type length transmitter detects the length, with accurate positioning and automatic length counting. Good cutting synchronization performance. The pneumatic and hydraulic types use a three-section table to control the cutting process and operate centrally with the panel. The servo type adopts LCD touch screen data input and CNC motor-driven tool holder positioning, with the best cutting synchronization and accuracy.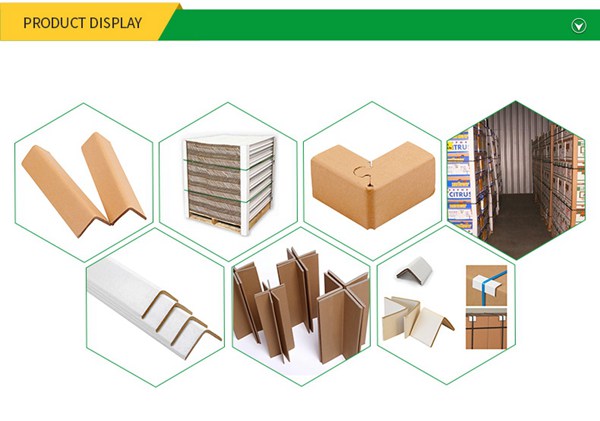 What can be used the paper edge protectors, paper pallets, and Paper slip sheets?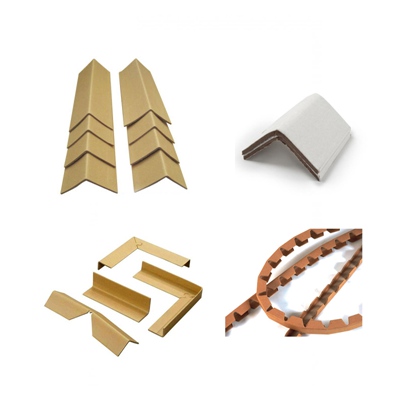 Paper corner protectors: Anti-collision and pressure-resistant. It can protect the surroundings, corners and periphery of the product from collision, extrusion, friction and damage during transportation, minimizing losses during transportation.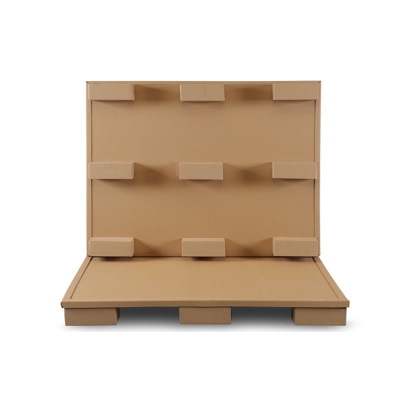 Paper pallets: This can replace wooden pallets and plastic pallets. And they are environmentally friendly and can be exported, used for packaging goods, and can be recycled.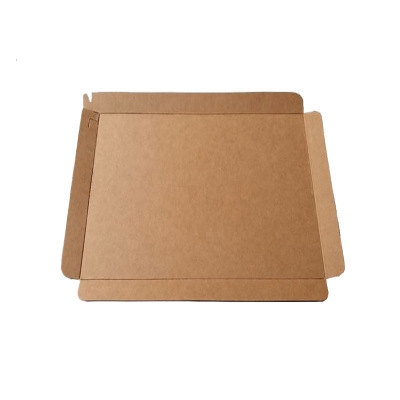 Paper slip sheets: replaces paper pallets, wooden pallets, and plastic pallets. It is ultra-thin and has negligible single volume. It greatly reduces cabinet space and saves transportation and packaging costs. Recyclable, environmentally friendly and exportable.
If you want to start from corrugated paper manufacturing, please check the corrugated paperboard production line.
Paper Corner Protector Manufacturing Factory
By there, you must have an idea to invest a paper corner protectors manufacturing factory. How much should you invest? What should you do before start? Leave here your contact information and our sales manager will send you a detailed solution.