Ice cream is a temptingly delicious frozen dairy product. Nearly 800 years ago, ice cream originated in China. And many friends have their own favorite ice cream. Even in the cold winter, many people like to eat ice cream. But, how is made the ice cream and Waffle cone and paper cone for ice cream? Here we are going to introduce the YG Ice Cream/Cone Maker – an ice cream jacket production equipment to you.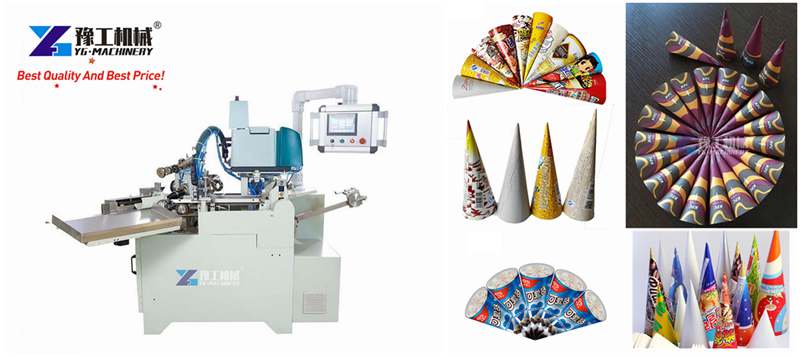 High speed fully automatic paper cone making machine for sale
Fully Automatic Ice Cream/Cone Cover Forming Machine is suitable for making paper cone jackets for ice cream cones and similar items. The angle of the cone paper cup can be 17°-28°. The length of the busbar can be selected in the range of 100-250mm (by changing the mold), the speed is 190-280 pieces/min. Contact us to get the ice cream paper cone making machine price.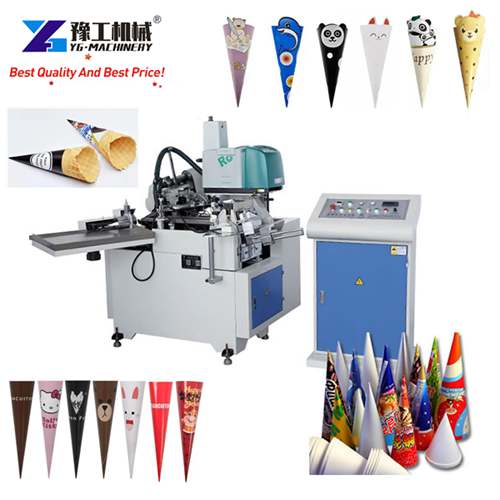 Ice cream Paper Cone Maker
Angle of the cone paper cup can be 17°-28°.
Speed: 190-230 pieces/min
Capacity: 190-280 pieces/min
Parameters of Ice Cream Cone Sleeve Forming Machine
Name
Paper cone machine (FOR ICE CREAM)
Paper cone Size
degree17-23
Plagioclase110-230mm
Raw Material
110-170g/m2 art paper/aluminized paper/offset paper/wax paper ect.
Speed
190-220pcs/min
Speed of 20 hours stable running per day
Voltage supply
380v50hz 3-phase
(better to use 380v50hz 3-phase)
*If the user's voltage supply is different, please inform us in advance.
Working Air Source
Air pressure 0.4-0.8Mpa
User should buy Air Compressor
General power
9kw
Net weight
1000kgs
Measurement
1850*1250*1800mm
Cup Side Sealing
Hot melt adhesive
Note: We can customize the machine and mold according to the customer's requirements.
Advantages of Paper Cone Machine
Easy to operate
High efficient, 280 pcs per min maximum.
Small size, small footprint, easy to install.
High degree of automation, simple operation and adjustment, easy to maintain.
Ice cream Cone Maker Factory Price
The ice cream cone making machine is mainly used to make crispy ice cream cones, which are widely used in various grocery stores, such as restaurant equipment, cake room equipment, storefront equipment, baking equipment, western restaurant equipment, beverage shop equipment, frozen food factory equipment, etc.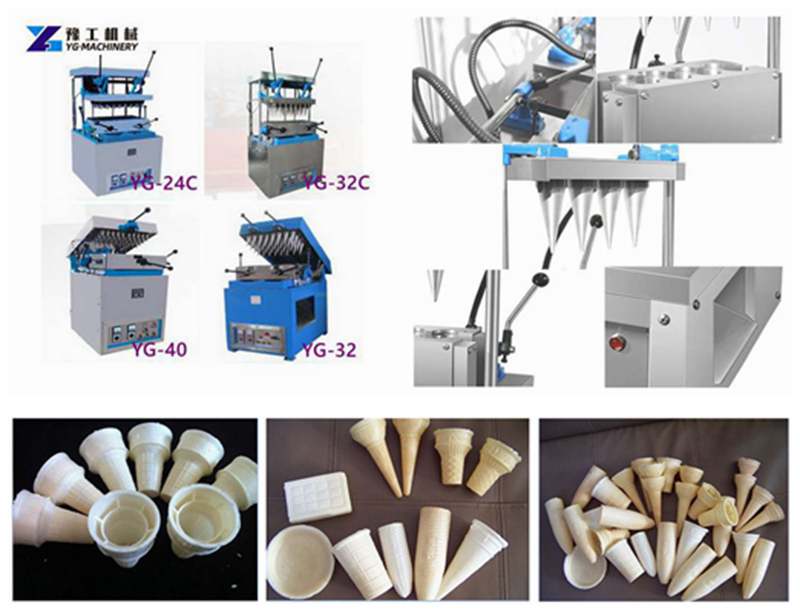 YG Waffle Cone Machine features:
Easy to operate, just one person can operate it.
The machine is made of food-grade stainless steel.
There are many models of ice cream cone machines with different capacities for you to choose, and you can also make sugar cones of different shapes by changing the mold.
The power cord adopts metal casing, which is resistant to high temperature, no leakage, safe and durable;
The tray is made of stainless steel, which is safe and corrosion-resistant, not easy to rust, safe and hygienic, and easy to clean;
Move the opening and closing handle of the mold, open the mold, and then the egg tray will automatically fall off, which is simple and convenient;
After the egg tray falls, it will be concentrated at the exit, which is very convenient.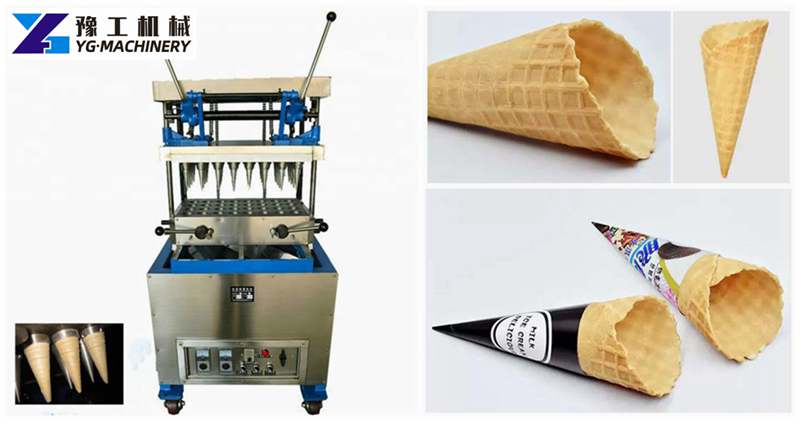 Many molds to choose from
There are many kinds of molds, all of which are made of pressure-resistant stainless steel, which is resistant to high temperature corrosion and durable.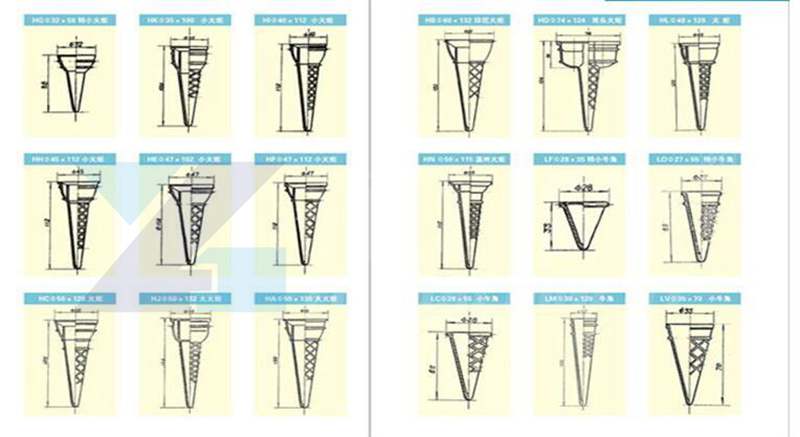 Ice Cream Waffle Cone Maker Machine Supplier
If you want to buy paper cone maker machine for ice cream, ice cream waffle cone making machine, or ice cream cup making machine, please contact us to get a free quote. Factory price. Fast delivery.