YG Paper Machinery installed a new flexo folder gluer machine in Eerbeek, Holland. The new machine is a top-of-the-line model that is capable of producing a wide variety of boxes at high speeds.
What our client says?

I am very pleased with the performance of the new machine and expects it to continue to be a valuable asset to the company for many years to come.
This automatic gluing machine for corrugate boxes has helped to improve the company's productivity and reduce its costs. The machine is also very user-friendly and has been easy to integrate into the company's existing production line.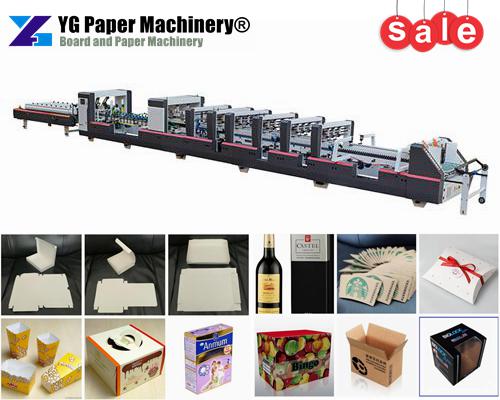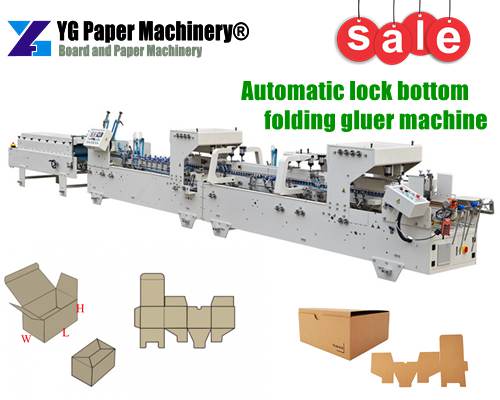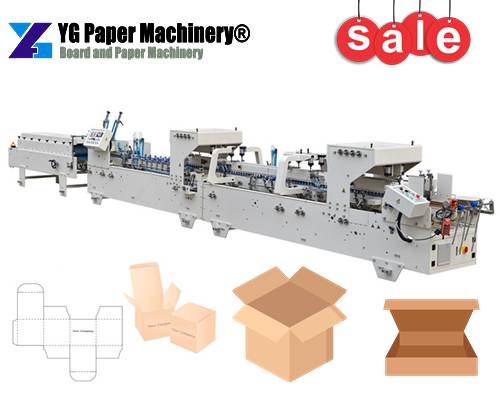 automatic-46-corner-folder-gluer
automatic-lock-bottom-folding-gluer-machine
Automatic Folder Gluer Machines
Variety of box stypes to produce;
Fully automatic;
High speed, low waste.
Choose the model suitable for your business
Model
YG-650
YG-800
YG-1100
Paper Material
Cardboard 210-800 GSM, E/F E/F Flute
Max Speed
300 m/min
Max Thickness of Folded Box
12 mm
12 mm
12 mm
Way of Folding
Fold 1 and fold 3 are 180°and 135°,fold 2 and fold 4 are 180°
Power Supply
3P 380V 50HZ
Blank Width
650 mm
800 mm
1100 mm
Length X Width X Height
12 X 1.08 X 1.4 m
12 X 1.23 X 1.4 m
12 X 1.58 X 1.4 m
Net Weight
4 T
4.5 T
5 T
Total Power
12 Kw
14 Kw
15 Kw
Not sure what you're looking for? Let our experts help you find the perfect solution.
Flexo Folder Gluer Features
Automatic feeder, pre-feeder, or fully automatic operation.
The automatic folder gluer machine can produce boxes made from recycled materials.
High speed, low paper waste.
Material types, such as corrugated cardboard, folding carton, or other substrates.
Variety of box types can be made.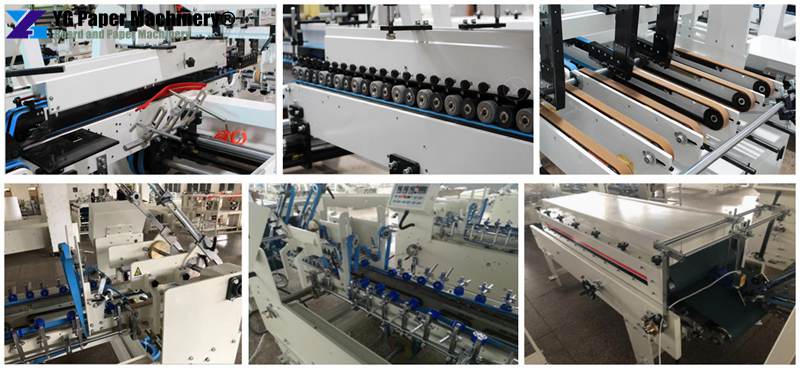 Ready to get started? Fill out our inquiry form and we'll get in touch with you right away.
Product application scope
Paper packaging, cigarette bags, wine bags, cosmetics packaging, clothing, shoes and hats packaging, toy packaging, corrugated boxes, lunch boxes, boutique color boxes, etc.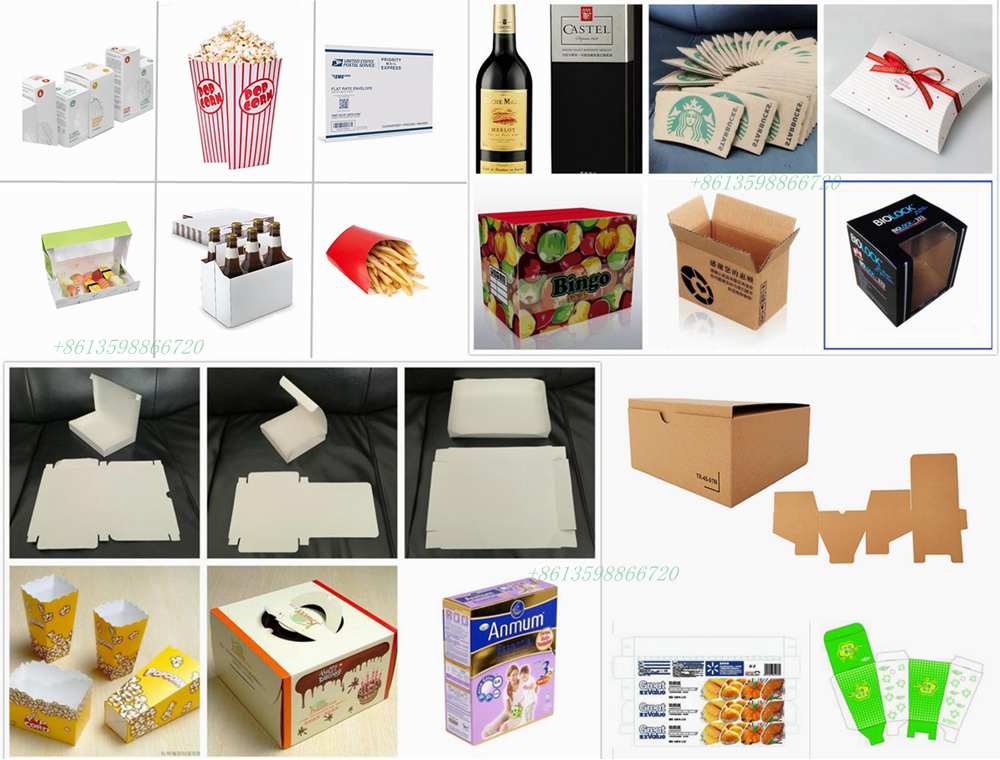 Benefits of Automatic folder gluer machine
Explore the benefits of automatic folder gluer machines for your packaging needs.
Increased productivity: The new flexo folder gluer machine is capable of producing up to 20,000 boxes per hour. This is a significant increase over the company's previous machine.
Reduced costs: The new machine is more efficient and uses less waste material. This has helped to reduce the company's costs.
Improved quality: The new machine produces high-quality boxes that are free of defects.
Increased customer satisfaction: The customers are very happy with the quality of the new boxes. The company has received several compliments from its customers.
How to choose the folder and gluer machine?
Folder gluing machines are divided into semi-automatic folder gluing machines and fully automatic folder gluing machines.
Semi automatic folder gluer machine
This semi automatic gluing machine is suitable for producing large packaging boxes, corrugated boxes, etc. Almost all boxes can be made on the semi-automatic folder gluing machine.
Simple structure. Strong equipment. Reliable. Easy to use and debug.
The working procedures include automatic paper feeding, edge grinding, gluing and then sending out through the belt, manual folding and shaping, and then the pneumatic pressing table on one side is used to shape the paper (one side is equipped with six stations). The cartons pasted by machines have beautiful appearance, strong adhesive mouth, and save glue. Its output depends on the proficiency of the workers.
Fully automatic folder gluer
There are usually three types of fully automatic folder gluers.

1. Ordinary edge pasting folder-gluing machine: It has the most basic functions of folding on both sides and pasting on both sides. This type of folder-gluing machine has the widest range of applications. If you want to start a new packing company, you can definitely buy this box-gluing machine.

2. Folder gluer with pre-folding: It is suitable for square (i.e. four sides) carton boxes, especially medicine boxes. So if you want to produce this kind of boxes, the pre fold carton gluing machine.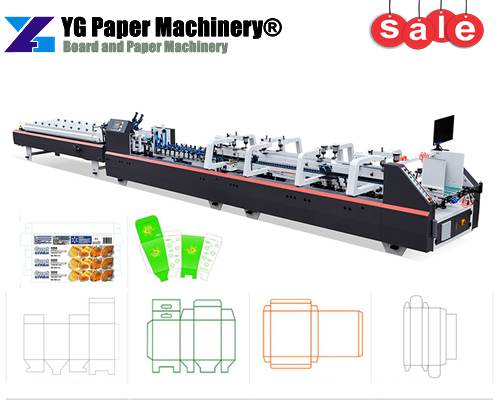 Folder gluer with pre-folding
Generally suitable for ordinary box making of food, medicine, cosmetics, stationery, etc.

3. Folder gluing machine with hook bottom: The most complex equipment in the machine is also very difficult to debug. It not only has the functions of the above two types of folder gluers, but also can fold and glue the bottom of the box. The box pasted in this way is particularly easy to open during use, and the bottom has been glued, so there is no need to insert the bottom manually. The industry calls it an automatic bottom. Generally, high-end packaging boxes (such as cosmetic boxes) adopt a hook-bottom structure.
What is folder gluer machine price?
The price of a folder gluer machine can vary depending on the size, speed, and features of the machine. YG Paper Machinery provides affordable folder gluer machines available that can meet the needs of most businesses.
If you are looking to improve the efficiency and quality of your packaging operation, contact us toady for a free consultation.